You're making your home look crappy if you aren't doing any of these things
Just a few simple changes improve the whole vibe.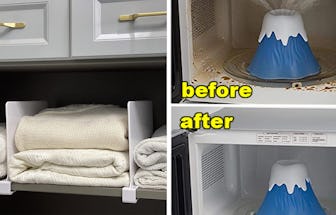 We may receive a portion of sales if you purchase a product through a link in this article.
Right now, my house is a mess of clutter. If there's one thing I've learned from writing this column, though, it's that help is available — it just requires a tiny bit of effort and know-how, along with a few handy products. If your home currently looks crappy too, it might be because you're not doing any of these things.
When it comes to glowing up a space, my strategy for implementation is simple: I pick the area of my house that's annoying me the most and apply my resources there. Recently, that was my bedroom, because I'm a firm believer that you have to make sure your cup is full before you can pour into anyone else's cup.
The "squeaky wheel" room in your home may be different, but regardless, this list is packed with suggestions for getting it all fixed up. I'll get on it if you will — pinky swear.