6 shirts for guys with broad shoulders — including a classic tee that's just $10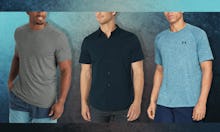 Amazon/Mic
Shopping for clothes can be even more of a challenge if you have broad shoulders. Fortunately, there are a few guiding principles that help. First — and perhaps most importantly —the best shirts for guys with broad shoulders offer a certain amount of stretch. Even if a T-shirt or button-down is designed with an extra-wide fit, a little flexibility can help ensure ease of movement, so you don't feel constricted. Look for shirts made with polyester, which has a decent amount of give, or blends that include elastane or spandex for even more stretch.
Besides material, it helps if the shirt's chest, back, and upper arm measurements are extra wide to better accommodate your build. Now, broad shoulders can be roughly defined as 1.6 times the size of your waist (give or take), so if you have a 36-inch waist, for example, you might want to look for a shirt with chest measurements of 58 inches or larger. Unfortunately, exact shirt measurements aren't always readily available, but it's still helpful to keep in mind when shopping around, and when in doubt, you can opt for a shirt with a back pleat to help guarantee some extra range of movement.
Finally, the most surefire way to determine if a shirt will work with broad shoulders is to simply read the reviews. The wide-shouldered reviewers will be self-professed, of course, but it's still a good way to get an overall sense of a shirt's proportions. Take a look at these shirts for guys with broad shoulders below to find one that suits your style and build.
We only recommend products we love and that we think you will, too. We may receive a portion of sales from products purchased from this article, which was written by our Commerce team.