Gucci Mane or Gucci: Which is more luxurious?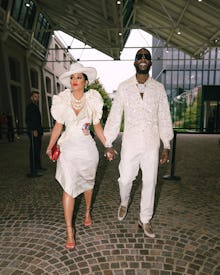 Luxury designer Gucci has long been a signifier of ostentatious wealth. The fashion house is defined by statement-making, especially under the creative direction of Alessandro Michele, who took on the role in 2015 and introduced a signature maximalism to the label. The Gucci insignia remains a steadfast way to establish clout whether you're walking into a club or into the lobby of the Four Seasons. But, Gucci has never been as good at selling their particular brand of excess as the Atlanta rapper Gucci Mane who is, increasingly, the more luxurious Gucci.
Gucci, the high-fashion brand, has a history of looking to stylish scions of black culture for inspiration. Just look to the Dapper Dan controversy for proof. Gucci Mane, however, has subverted the label from the start. It's even in his name, which the fashion label would be remiss to question and instead can only hope to reap some small benefit from. (Gucci, the man, could be seen front row at the label's presentation in Milan.)
Gucci Mane makes luxury look fun, something the fashion brand has a hard time with. At London Fashion Week, the head designer tried to send a message about power and clothes by beginning the the show with models dressed in utilitarian jumpsuits designed to look like straitjackets. Many critics, including one of the show's models, didn't really gel with the concept. It was over the top in a way that was decidedly not fun — and what's the point of expensive clothing if not fun?
Gucci Mane understands how to have a good time. The cover for his upcoming Woptober II mixtape is better than any ad Gucci has produced — ever. In it, Gucci, the man, lounges while a butler stands in waiting, ready to refresh our rap superstar at a moment's notice. Gucci Mane is also receiving a massage and taking a phone call on a green landline phone. Succession could never.
The cover illustrates the ways in which Gucci Mane is arguably the more iconic Gucci. Sure, the cover is almost certainly a play on the luxury fashion house's signature aesthetic. And there are rumors of a more extensive partnership between the two in the works. But Gucci Mane is the essence of the photo, and frankly, of the brand.
Since his triumphant return from prison in 2016, Gucci Mane has cultivated a visual identity best described as "goals." While all luxury strives to be aspirational, Gucci Mane exudes the concept by simply existing.
Below, an image study.
Look One: Lounging outdoors
The art of lounging while rich is a look few have perfected; Sharpay in in High School Musical 2, The cast of Boogie Nights. It is something hard to do outside the context of cinema. Pre Fall Gucci 2019 tried to do it with their tracksuits and slippers, to lackluster results. One does not lounge on rocks! But Gucci Mane took his Gucci loafers and his satin matching set and delighted in the riches of Las Vegas pool decks. That's what to do with money and nice clothes. Go to Vegas, not sit on rocks.
Look Two: Wearing the Logo
There is little joy in being rich, I assume, if other people aren't aware of it. There are plenty of ways to let people know: you can be snobby, travel the world and stay only in the nicest of resorts, hoard property. An easier way is to don the well known logos of the most expensive clothes. It's why country clubs are filled with those Louis Vuitton purses and Chanel makes those earrings with the two C's facing opposite coasts. Gucci Mane makes looking rich seem like it is one long road trip towards the sun, which is silly, because as far as I know, the wealthy do not drive. Meanwhile, Gucci Mane and his wife, Keyshia Ka'oir Davis, wear Gucci on their very lavish Disney World vacations.
Look Three: The Actual Runway
There doesn't even need to be a comparison image here. Gucci's models wore their clothes like it was a task. The Spring Summer collection is supposed to imagine fashion as a form of resistance. Blissfully, the Wopsters aren't wasting our time with such empty headedness. Fashion — especially Gucci — is a form of fun, a form of expression for those who can afford it, an opportunity to look like you've descended from some excellent party everyone else would like to be invited to. Gucci Mane seems to understand, and appreciate, the fun of being rich, both for the haves and the have-nots. It's all about the spectacle of it.
There's nothing radical about spending $370 on flip flops. At least make it look as gluttonous and glamorous as it really is.