iCarly returns, banking on millennials' endless appetite for empty nostalgia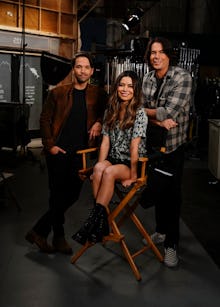 iCarly is back. And it's, well, maybe sadder than ever. Paramount+ recently released a trailer for the reboot of the popular Nickelodeon show that ended in 2012. Miranda Cosgrove, who plays the titular Carly, and two of the original core cast (Jerry Trainor, Nathan Kress) are set to return, along with some new additions. But, even as adults now, the DNA of the series — Carly as the host of a zany web show — largely remains the same, ready to cash in on all of our nostalgic impulses.
It's another in a long line of revivals that can feel particularly telling of the state of its core audiences, i.e. tired millennials desperate for a crumb of untarnished comfort. It's not news that we're in an age of reboots, spinoffs, and adaptations, but iCarly's trailer comes on the heels of a recently premiered reboot of Rugrats and a newly announced Spongebob spin-off, this time focused on beloved aquatic himbo Patrick Star (in the Disney Channel world, we've had Raven's Home, a spin-off of That's So Raven, along with a Lizzie Mcguire re-up that ultimately failed due to creative differences) — all iterations of child-entertainment programs that were spread across the 2000s.
While other mainstream reimaginings are, for better or worse, capitalizing on a proven formula for bankability — those include recent blockbusters like Mortal Kombat, Godzilla vs. Kong, and the new Cruella — this strain of kid-show reboots feels like somewhat of a telling deviation. Namely, the audiences networks and streamers are attempting to entice with a nostalgia trip are already fully grown adults who wouldn't presumably be watching kid shows. This isn't to say revivals like iCarly won't work. It's to say that they probably will, and millennials — the post-9/11 generation who have now lived through two global recessions — will continue to evolve into their fullest cheugy forms because that's really all they can do most of the time.
Of course, a lot of this simply corresponds to a generational cycle — Nickelodeon and Disney Channel didn't become flagships of mass American kids' entertainment until the '90s (Nicktoons launched in 1991, and Disney Channel became a much more widely accessible basic cable channel throughout the same decade). And if these programs worked for a previous generation, who may or may not bother to tune in, why wouldn't a new generation of young viewers tune in like their predecessors?
Nevertheless, there is a distinct sense that the nostalgia they represent for its original viewers possesses an added tint of disillusionment. Because even as adults, many of these shows' original viewers will tune in to some extent (at some point, I may or may not check into Rugrats, or hate-watch the new Patrick Star show), listlessly tuning into a window of our former carefree selves. It's not like most are busy shopping for a house — what else is there to do?