Instagram is making you spend more money. Here's how to stop.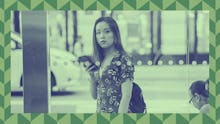 mentatdgt/Shutterstock
We've all been there: you're looking at an Instagram of someone's new bag and wondering, "hm, I could use one..." or watching a story of a friend's trip to Paris and thinking, "I've been wanting to go there, too!" and, before you know it, you're getting out your credit card and going on Amazon or Skyscanner. According to a recent survey by LendingClub among 5,006 adults 18 and older, one in four millennials say social media posts cause them to spend money they weren't planning to spend. Clearly, this is common behavior — but why do we do it?
Anuj Nayar, financial health officer at LendingClub, says it all comes down to what he calls "YOLO spending," i.e. feeling that it's worth buying more than you otherwise would — or something you wouldn't normally even want — because others are doing the same. "Social media, especially Instagram, has become a constant bombardment of everything — vacations, styles, tech, etc. — you don't have, and it can be hard to avoid overspending when you're watching others live expensive aspirational lifestyles," explains Nayar over email.
He terms this behavior BUI (browsing under the influence), and notes that it can have real consequences. "At the end of the day, buying flashy — but pricey — items won't really have a positive impact on your life, and it can end up damaging your overall financial situation and your financial goals a few months, a year or even decades down the line," says Nayar.
Want to avoid YOLO spending induced by other people's social media posts? Here are Nayar's best tips.