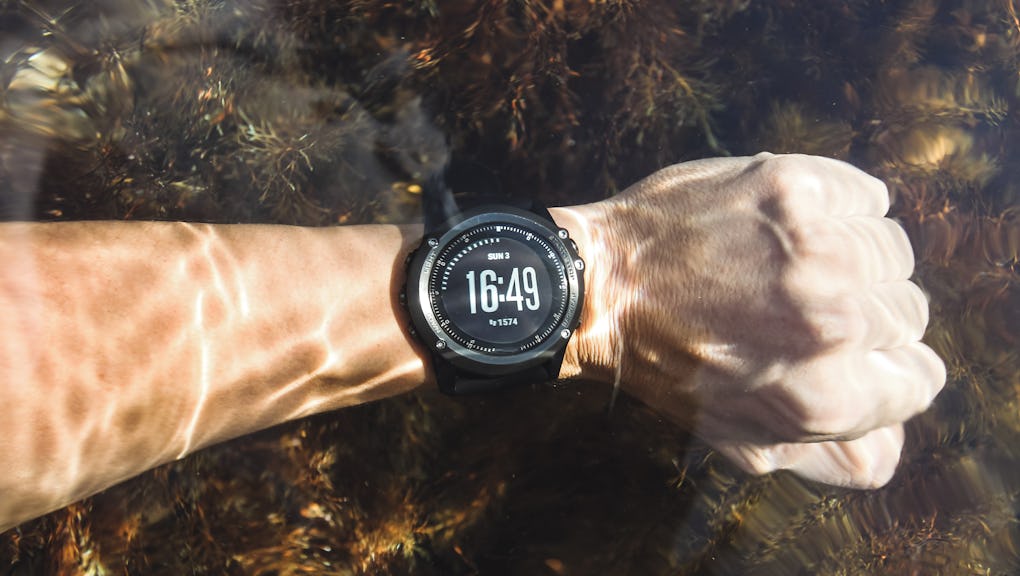 Breslavtsev Oleg/Shutterstock
The 3 best triathlon watches
When you're training for a triathlon, it's helpful to have data to identify your strengths as well as pinpoint the areas you still need to improve. Sports watches are a convenient tool for this — they offer key metrics such as heart rate, speed, distance, steps, and laps. The best triathlon watches incorporate a number of features:
Waterproof design: This is mandatory for any triathlon watch — you can't train for a swimming race without a fully waterproof device. Your watch should be able to withstand up to at least 50 meters of depth and ideally have a "swim" mode too, so you can track laps and distance. More advanced options will also count things like strokes, pace, and swimming efficiency (SWOLF).
Heart rate monitor: While not absolutely essential, this feature is extremely helpful for triathletes. It gives you valuable insight into the intensity of the training sessions so you can pace yourself properly (without having to hold your fingers to your neck every five minutes).
Robust battery life: Depending on whether you're running a sprint or an Ironman, your required battery life will differ, but six to eight hours is typically a good minimum. On top of that, it should be able to operate for that duration while the heavy-data features such as GPS tracking and music playback are in use.
Multi-sport transition: This is the ease with which you can switch between sports modes. The best sports watches can either detect a transition automatically or have features that make it simple to shift modes without fiddling with a lot of buttons.
GPS tracking: Another nonessential (but highly desirable) feature is GPS tracking, which lets you see exactly where you've been during your race. Just keep in mind that this mode tends to suck up a lot of battery life.
Another important factor to consider is durability. Unlike a regular fitness tracker that you'd wear to the gym or out power walking, your triathlon watch will get subjected to serious wear and tear — dust, dirt, saltwater, sweat, etc. You want it to be able to withstand these tough elements without falling apart.
Below, I've made a list of the best triathlon watches out there. I included two higher-end options with smartphone syncing capabilities, as well as a basic budget watch for simple metrics tracking. Scroll through to find the one that's best for your needs and budget.
We only recommend products we love and that we think you will, too. We may receive a portion of sales from products purchased from this article, which was written by our Commerce team.
1. The overall best
The highlights: Heart rate monitor, GPS tracking, 80+ sports modes, 120-hour battery life, SWOLF
The details: With special functions for running, swimming, and cycling, this durable, high-quality multi-sport watch is by far one of the best watches for triathletes out there. It's water-resistant at up to 100 meters of depth, with laser-like GPS tracking and all of the essential metrics, including heart rate, steps, and distance. In addition to advanced triathlon-specific features such as swim pace and SWOLF, it's equipped with more than 80 regular sports modes, making it functional for just about any activity you take part in. And although it doesn't automatically detect your transitions, you can set it to "Multi-sport Mode" which allows you to change activities with two easy clicks.
You can connect it to apps like Strava and Endomono, as well as the Suunto app (which offers heat maps and route planning). On top of all of that, it syncs with your phone and social media accounts — if you want it to — offering alerts and vibrations when you get new messages or notifications. Plus, at a staggering 120 hours (in GPS mode, no less), its battery life is one of the longest on the market. Note that for an extra $200, you can upgrade to a version that has a barometer to track your altitude.
One reviewer says: "I am a huge fan of this watch. I have been impressed with both that accuracy (... where I followed a route through the remote Colorado wilderness and had complete confidence in the watch as a navigation tool) and the long-lasting battery [...] The watch gave me accurate data for both cumulative gain and distance. When I finished the 105km run I still had over 25% battery life left. That's pretty impressive considering it took me almost 16 hours to finish! This watch has become my go-to watch for both daily training and my longer endurance events. It has everything you need if you are an endurance athlete."
2. The best investment
The highlights: Heart rate monitor, GPS tracking, SWOLF, music downloads, Garmin Pay, maximal oxygen uptake, altitude tracking
The details: If you're looking for a high-end option with all of the bells and whistles, this Garmin triathlon GPS watch will not disappoint. Specially designed for triathlons, the ultra-rugged, super durable watch boasts run, bike, and swim-specific features (including stroke detection and SWOLF), along with a variety of other sports modes (which it can automatically detect and shift into). And it's fully waterproof at up to 50 meters in depth. On top of the standard fitness tracker inclusions such as distance, steps, GPS tracking, and social media integration, it has extras like maximal oxygen uptake, altitude (along with altitude acclimation status), and even incident detection that sends your real-time location to emergency contacts.
Another key feature that's convenient for triathlon training is its ability to download songs and sync with Spotify, Amazon Music, or Deezer. It also has Garmin Pay so you can use it to make purchases — and the high-resolution screen has full-color maps to navigate runs and bike rides. Its battery life is impressively long — two weeks in smartwatch mode — although it drops to 10 hours when you shift into GPS tracking. It can read your heart rate from your wrist, and there's also a chest monitor you can purchase as an add-on for extra precision. For extra serious triathletes, try the Garmin Triathlon bundle, which comes with a swim chest strap, water bottle, and other extras.
One reviewer says: "Despite the price this watch is totally worth it if you are going to leverage all [its] features. My husband uses it for triathlon preparation and absolutely loves it."
3. The budget-friendly choice
The highlights: Lap tracking, time tracking, digital alarms
The details: Like the Garmin option, this multi-sport GPS watch is designed specifically for triathlons too; however, it's a lower-end "non-smart" version without all of the extra features. In contrast to the first two options, it's not a smartwatch, so you can't sync it with your phone or any apps — all of its functions are built-in. For example, it has an internal chronograph to track your time and integrated alarms for setting countdowns and reminders.
Even without the smart capabilities, however, it does an excellent job tracking basic triathlon metrics such as time and laps (with 24-hour military time mode and two time zones). It is water-resistant down to 100 meters and features a roomy, easy-to-read digital screen. It doesn't have heart rate monitoring or GPS tracking, and the battery life isn't specified, but it's a great option if you're just looking for a simple, cheap way to track your basic metrics while you train. If you prefer a watch with a smaller profile, it's also available in a women's version here.
One reviewer says: "This Ironman is the real deal. It packs so much functionality into a small profile. As a runner, this has all the features I need for logging times. ... The quality is excellent, and in the 10 years or so since my last Ironman, the already legendary brand has somehow become exceptionally better."