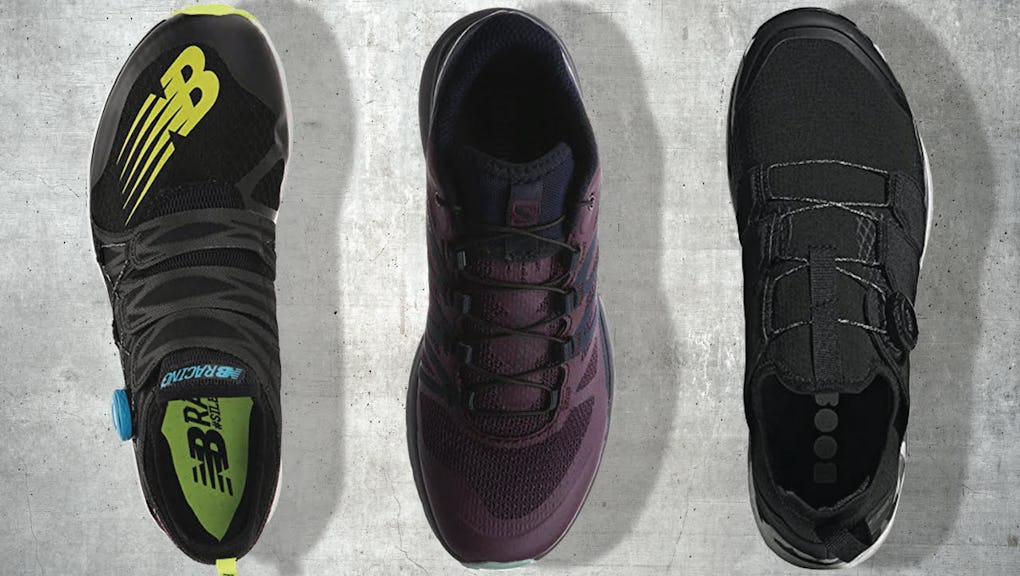 Mic/Amazon
The 6 best slip-on running shoes
The hardest part of running is putting your shoes on, as the adage goes, which is why having the best slip-on running shoes can be so amazing. They save you time and help motivate you to get out the door. That said, it can be hard to find slip-on shoes that offer genuine high-performance features. Most traditional slip-ons (i.e. shoes without any sort of lace or cord) are made for either walking or light running — not intense, heavy-duty training sessions.
When it comes to easy-on features, more serious athletic sneakers typically fall into the "no lace" or "quick lace" category instead. This usually means they have either a Boa (those twist-dial systems you see in helmets or snowboarding boots) or a pull-cord that lets you cinch them down in one fell swoop. For that reason, I made sure to include a combination of traditional slip-ons (for aerobic walking or light jogging) and no-lace sneakers (for more advanced training) in my list of the best slip-on running shoes below.
In addition to design features, I also looked for the qualities you'd want in any pair of running shoes, such as:
Breathable, lightweight material: This typically means an upper sections made from mesh, knits, or other well-ventilated materials.
High-quality cushioning: Footbeds with EVA foam or other soft, comfortable material for support are ideal for this.
Shock-absorbing midsoles: Layers of middle foam will help provide shock-absorption and prevent foot fatigue.
Tough, grippy outsoles: A good bet here is soles that are constructed from durable rubber with strong, grippy tread patterns.
Given these factors, take a look at the best slip-on running shoes below. I've included both men's and women's picks, so you can easily find the pair that's best for your needs.
THE BEST MEN'S RUNNING SHOES
The best for light running
If you're only planning for light running, these traditional slip-on athletic sneakers are easy to slide into and exceptionally convenient. On top of that, reviewers say they're comfortable, too. The lightweight sneakers are built with flexible knit material and dual-vent mesh that's breathable yet stiff enough to offer structure. They slip on with a simple pull tab, and the soles are bendy yet sturdy enough to offer solid traction. Best of all, the footbeds feature extra soft cushioning and a shock-absorbing heel to reduce foot fatigue. (Just note that some sizes are currently out of stock.)
Fans say: "Extremely comfortable and absorbs impact very well when I go for my morning jogs. Had these for a month so far, so as for as the wear-and-tear aspect, they are still in great condition [...] I definitely recommend."
The best for road running
Instead of shoelaces, these easy-on running shoes have Boas on the sides that you can use to crank them down to tighten them. On top of that, they're designed with slide-in booties around the openings (rather than standard padded tongues) which make them smoother to get into. The midsoles are constructed with a soft, springy foam material called Revlite that offers excellent shock absorption, and they're well-cushioned, too. The foam material is lightweight and flexible, and the sturdy rubber soles features extra-grippy tread patterns.
Fans say: "Best running shoes I have ever had. BOA system is better than having laces because you can adjust tightness or loosen to your liking on the fly. Runs a half size smaller than other shoes. I got half size bigger and fit was perfect."
Available sizes: 7 to 15 (regular and wide)
The best for trail running
Designed specifically with trail running in mind, these no-lace men's running shoes offer extra traction and grip to help you navigate technical surfaces. Similarly to the previous selection, they're equipped with an easy Boa closure system that cinches down in a snap. This also allows you to micro-adjust the fit, and the handy heel loops make them easier to slide on. They're built with high-rebound cushioning that's soft and comfortable, along with BOOST midsoles that provide shock-absorbing EVA foam. The rubber soles are tough, rugged, and equipped for rocky, root-covered terrain.
Fans say: "Loved the shoes , sturdy and comfortable - partnered well on a Europe trip including short hikes"
THE BEST WOMEN'S RUNNING SHOES
The best for light running
For walking and lighter, low-impact running, these women's slip-on sneakers offer softness, cushioning, and convenience. They're made with a breathable knit fabric that features stretchy elastic and ventilated mesh to keep them cool and airy. In addition to comfort and temperature control, the microfiber material wicks moisture and reduces odor. The soles have EVA foam that's ultra-lightweight, and they're fairly shock-absorbing, too. They have an easy-pull tab in the back to help slide them on, and decent traction underneath — all at an affordable price. Get them in a pale purple (pictured above) or classic black.
Fans say: "I am really loving my new sneakers. They slip on easily, they are very comfortable, and the color is so pretty. Sole is nice and thick, but there is nice flexibility too. Fabric is thin and breathable, but thick enough to provide support"
The best for road running
This is the women's version of the New Balance sneakers above, which showcase easy-glide booties that are easy to slide on, and simple Boas to cinch them down tightly (allowing you to adjust them to your exact comfort level). There's bouncy Revlite foam in the midsoles for shock-absorption, while the lightweight uppers are both durable and bendy. They have strong rubber soles with ample tread and, as a bonus, they're stylish, too. I personally have these women's shoes and can vouch that they're both comfortable and versatile. There are five different styles to choose from, however, current sizing availability varies among them..
Fans say: "These were super comfortable right out of the box. I love the dial lacing system - you never have to worry about laces coming untied, and it's easy to get the right level of snugness. What an ingenious idea! These are super lightweight but have support in all the right places. And, I got a great deal through the amazon warehouse. Can't ask for more than that!"
Available sizes: 5 to 12 (regular and wide)
The best for trail running
Rather than a Boa system, these women's trail running shoes have simple pull-cord laces that you essentially just tug to tighten (although it's helpful to yank the main part of the cord first, too). The "QuickLace" system, as it's called, offers the feel and convenience of slip-ons but with the performance features of a high-quality athletic sneaker. The air mesh material, which is breathable so you don't overheat, is constructed with a special film that adapts to your foot as it moves, offering extra support. In addition to comfortable, high-rebound midsoles that absorb shock, the bottoms are built with wet traction grip that provides amazing tread, even on wet surfaces. I have these shoes, too, and they've never let me down.
Fans say: "Im one hundred percent sold on them!!! I put them on straight out of the box and went for a run, these are so comfortable and no break in period needed! The draw string laces are nice too, no more laces coming undone and tripping me. I definitely will be checking out more of this brand!"
Available sizes: 6.5 to 12
A GREAT ALTERNATIVE
A set of no-tie shoes laces
As an alternative to purchasing brand new slip-on shoes, these cool no-tie shoelaces are a great upgrade if you already have a pair of sneakers you love (or if there's a new lace-up pair you have your eye on). The innovative shoelaces basically convert any existing lace-up running shoe into a slip-on. In addition to being easier to get in and out of, the unique laces boost blood circulation in your feet, according to the brand, and make your shoes more comfortable by eliminating choke points from the knots. If that's not enough, they come in 17 different colors.
Fans say: "This is one of the best purchases I've made on Amazon! I've tried 'locking type laces' where the locking mechanisms slip or the lace end caps come open. Caterpy Laces are engineered simpler and superior to anything else I have used [...] You can make your shoes as snug or loose as you like with finite control from top to bottom."
Mic may receive a portion of sales from products purchased from this article, which was created independently of Mic's editorial and sales departments.