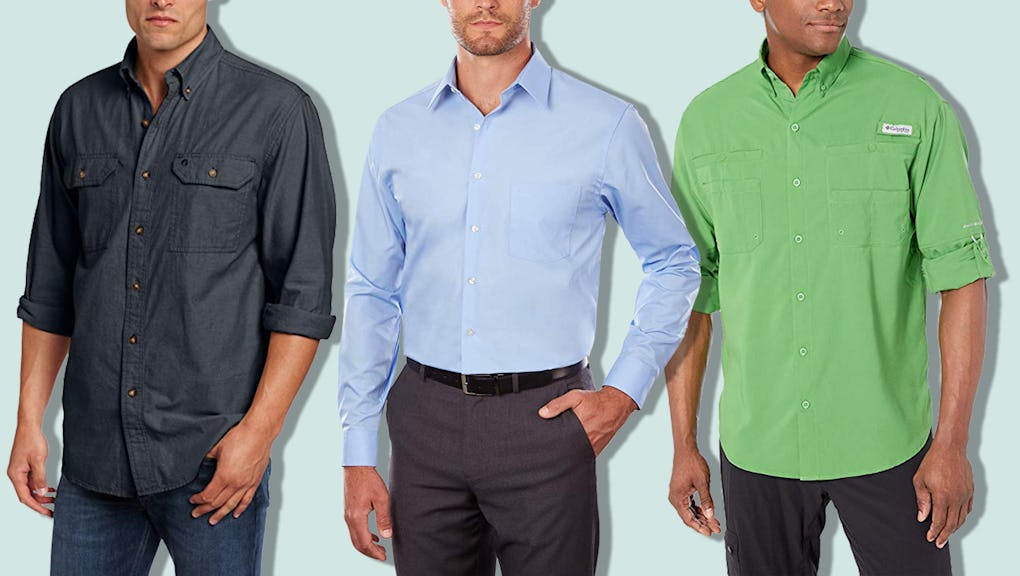 Amazon/Mic
The 6 best work shirts for hot weather
Whether you're inside an office or out in the open air, dressing for work when it's hot outside can be a recipe for disaster when you don't have the right apparel. The best work shirts for hot weather will keep you looking sharp while also offering cool, airy designs — you just need to know what to look for.
First, think about the weight and density of the fabric. The best shirt materials for hot weather will be those that are lightweight and breathable such as polyester, rayon, or bamboo. Cotton is generally heavier and not as good at wicking moisture; however, it's the softest of these options, so it can be nice to have as part of a fabric blend.
Another thing to consider is moisture management. You likely sweat a lot when it's hot out, so you need a shirt that can lift perspiration and transport it to the fabric's exterior before it starts dripping down your ribcage. It should also be fast-drying so that sweat will evaporate quickly. Polyester is a great choice for this, as is rayon or anything made with bamboo fibers such as Tencel. As an added bonus, also look for antimicrobial properties to help with odor reduction.
Other qualities that make work shirts sun-friendly include mesh vents and UV protection. Also keep in mind the regular qualities you'd look for in a work shirt such as durability, wrinkle-resistance, and easy laundering.
With these qualities in mind, take a look at the best work shirts for hot weather below. My list is divided into long-sleeved options and short-sleeved options, so you can easily find the right shirt for the job.
The best long-sleeved shirts for hot weather
These long-sleeved work shirts showcase qualities designed for hot weather such as moisture-wicking technology and breathable, lightweight fabrics.
This slim-fit dress shirt in a thin, wrinkle-free material
With more than 1,900 reviews, this popular men's work shirt is specially woven to be thin and lightweight for warm weather. It has a sharp collar at the top that works both with or without a tie, plus a roomy shoulder cut to allow ample range of motion. The breathable polyester-cotton material is machine-washable and wrinkle-resistant, and there are adjustable cuffs to customize the fit. The only drawback is that it's slightly thin and see-through, according to reviewers. However, many say it's worth it to have the extra ventilation.
Fans say: "I work in an office that requires me to wear a long sleeved collared shirt, in a place with warm weather. I don't dress to impress, I just want a basic fuss-free shirt, and this one is perfect."
Available sizes: 14-inch neck, 32/33-inch sleeve to 18.5-inch neck, 36/37-inch sleeve
This breezy, loose-fitting shirt with moisture-wicking fabric & UV protection
Built with 100 percent polyester and a smooth, loose-fitting design, this men's button-down is one of the best long-sleeve work shirts for summer. Although technically a fishing shirt, it's also great for working in warm weather because it combines style with sun-friendly features. These features include moisture-wicking fabric, UV protection, and a mesh-lined vent on the back to help cool you down. Additionally, the lightweight shirt boasts two convenient chest pockets and a machine-washable, wrinkle-free design. It is great for casual office settings as well as a variety of other workplaces.
Fans say: "As a tropical country citizen I must [say] that this is the best shirt for humid places. I work as a construction engineer and this is my favorite type of shirt for field work."
Available sizes: X-Small to XX-Large
This rugged yet lightweight shirt that's perfect for outdoor jobs
If you work outdoors or you're involved in any sort of physical job where your clothing receives extra wear and tear, this long-sleeve summer work shirt is a fantastic choice. It's designed with a strong, tear-resistant weave that's made to withstand tough outdoor labor. Constructed from 100 percent cotton, it's not quite as moisture-wicking as some of the other options on my list; however, its thin and lightweight design helps make up for that. Plus, the cotton makes this shirt extra soft, according to fans. The machine-washable work shirt has two chest pockets and a centered box pleat in the back that helps you move freely.
Fans say: "I had bought it as a lightweight work shirt, and for riding [horses] and working outside in hot weather. This would work fine for that--but it was so attractive, with an almost woven look, that I couldn't bring myself to use it for that purpose! It seems rugged enough for outdoor work, but I'm going to use it as casual wear, and even for Casual Fridays at the office."
Available sizes: Small to XX-Large
The best short-sleeved shirts for hot weather
These short-sleeved work shirts offer a variety of fabrics and features from cooling bamboo fibers to temperature-activated yarns.
This breathable bamboo fiber shirt with a sleek button-down design
Made from special bamboo fiber fabric, this lightweight men's work shirt is specifically designed for hot weather. The material showcases a blend of bamboo fiber and Tencel for breathability, along with a touch of spandex and cotton for softness and stretch. The fabric is also antimicrobial to reduce odor and has moisture-wicking properties to help keep you dry. Not only that, but it also features UV protection to give you a barrier from ultraviolet rays. The sleek, stylish shirt is perfect for work but it can be dressed down for a more casual look, too.
Fan say: "Fits great. Also very soft, comfortable & breathable. Love the material! Great for summer time."
Available sizes: XX-Small to X-Large
This collared shirt with temperature-activated cooling for big and tall sizes
Constructed with a lightweight mix of 68 percent rayon and 32 percent polyester, this button-down men's work shirt offers fabric that feels cool and breezy. On top of that, it has a patch of special temperature-activated yarn on the upper section where you sweat the most, adding to the cooling effect. The material is moisture-wicking and quick-drying to keep perspiration under control. On top of that, the shirt is machine-washable with a no-iron design, which means you can wear it wrinkle-free without having to press or steam it. Best of all, it comes in tall and wide sizing options.
Fans say: "Love this shirt. Fits well. Looks sharp."
Available sizes: Large to XXXX-Large (with big and tall options)
This lightweight option that's one of the best polo shirts for hot weather
Made with a cooling blend of lightweight fabrics, this men's performance work shirt is one of the best polo shirts for hot weather. It showcases a material called X-Temp, a blend of cotton and polyester that's engineered to adapt to your body temperature as it shifts, preventing you from overheating. The fabric also lifts moisture from your skin, transporting it to the outer layer where it can evaporate more quickly. What's more, it has UPF 40 sun protection to help protect your skin from harmful UV rays. The versatile shirt, which boasts more than 1,800 reviews on Amazon, comes in nine different colors and a wide ranges of sizes.
Fans say: "The material is very soft and breathable, perfect for a work shirt and you wont have to worry about getting [too] hot or sweating if you're moving around a lot. It is true to size and true to color, doesn't fade in the wash."
Available sizes: Small to XXX-Large
Mic may receive a portion of sales from products purchased from this article, which was created independently from Mic's editorial and sales departments.