From lounging to work to travel, these are the most comfortable boxers for any occasion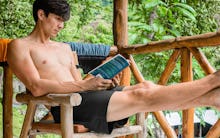 Amazon
Not all boxers are created equal — or work equally well in every situation. Depending on the clothes you're wearing (or what you're doing), different boxers will be your ideal fit. The loose fit of classic boxers can be great for lounging but can be uncomfortable under jeans. Similarly, boxer briefs, which have grown in popularity as a 'just right' option between brief and boxer underwear styles, can provide excellent support and invisible wear but might feel restrictive in more laid-back settings. No matter what your style, however, the most comfortable boxers all have one thing in common: They look good (both on their own and under clothes) and feel good, too.
Aside from loose versus tight fit, boxers vary in material, stitching, and band design. Wicking materials can be good for hotter weather and exercise, whereas cotton can provide comfort. Stitching might not seem like a big deal, but for tighter fits that are sewn to hug the body, it has the opportunity to create more (or less) support. Additionally, stitching and band design can help create no-ride legs and stay-put bands — both make for a comfortable pair that sits well under clothes. After all, boxers that ride up or slide down hardly qualify as "comfortable," no matter how soft the fabric.
With so many comfortable options for every occasion, however, the message is clear: It's time to bid adieu to any uncomfortable or worn-out boxers in your drawer and invest in one (or a few) of these.