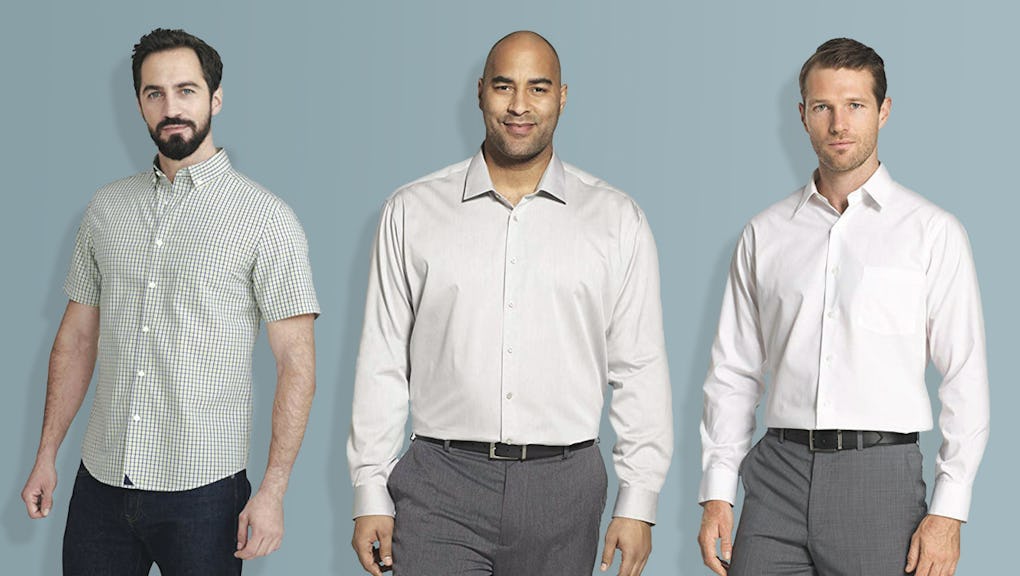 Mic/Amazon
The 8 best dress shirts on Amazon
Whether you work in an office setting or you simply like to look sharp when you hit the town, a high-quality dress shirt is a wardrobe staple that never goes out of style. When you're shopping for the best dress shirts on Amazon, it's helpful to understand the different options. Generally speaking, there are three main styles of fit for dress shirts:
Classic fit: With a straighter, airier design, these typically fit the average guy who's not particularly tall, wide, or lean.
Slim fit: These tapered shirts are best for skinnier, more slender physiques or guys who struggle with their shirts looking puffy when tucked in at the waist.
Big-and-tall fit: Designed for guys who are extra tall or wide, these dress shirts provide more room to move around in.
Once you've figured out which type of fit is best for you, the next thing to think about is material. You want the fabric to be soft and breathable with moisture-wicking properties to help absorb sweat. Typically, a polyester-cotton blend offers the best combination of these properties. If you're not worried about sweat and just want something soft and comfortable, 100% cotton options are a great way to go.
It's also great if your dress shirt has the ability to stay crisp after laundering and doesn't wrinkle easily. Some shirts even have special "no-iron" properties, although those tend to be more expensive. Budget dress shirts can sometimes offer wrinkle-resistance, but it may not compare to that of pricier options.
With these considerations in mind, take a look below at the best dress shirts on Amazon. I've broken them down by price range so you can easily find a shirt that best suits your needs and budget.
THE BEST DRESS SHIRTS UNDER $100
The best classic fit
Made with a 100% cotton construction that's soft and breathable, this is one of the best dress shirts under $100. Reviewers vouch that it doesn't wrinkle in the washing machine, and it stays crisp after multiple launderings. The classic fit design has double-sewn buttons for durability, with two buttons on each cuff and eight down the middle. Overall, it's smooth and versatile with five color options to choose from, including white, beige, and light blue.
Fans say: "Best shirt ever. The quality, thickness of the shirt, feel of the shirt, etc., is top notch. Very comfortable and will last a long time. Worth every penny!!!!"
Available sizes: 14.5 inch neck, 32 - 33 inch sleeve to 18.5 inch neck, 34 - 35 inch sleeve
The best slim fit
If you prefer a more tailored look, this Vince Camuto option is one of the best slim-fit dress shirts. It has a sharp-looking construction, with a sleek, slim-fit cut. The fabric is 100% cotton (please read: exceptionally soft), and the collar features a flexible design that expands up to half an inch. The material is moderately stretchy, too, with a tapered design throughout the body and sleeves. The shirt comes in a huge range of colors, including blue pinstripe, white, navy, gray, and coral. The only drawback is that it's not as wrinkle-resistant as some of the other choices.
Fans say: "I got several VC shirts for my husband and he LOVES them. He has a rugby build (broad chest and shorter arms) so the slim fit keeps the shirt from being a tent on him. Also the comfort fit neck is a big hit"
Available sizes: 14.5 inch neck, 32 - 33 inch sleeve to 17.5 inch neck, 34 - 35 inch sleeve
The best big and tall fit
For those who find slim and classic fit shirts too restrictive, this Calvin Klein herringbone shirt is one of the best big and tall dress shirts on Amazon. Similarly to the first two picks, it's constructed from 100% cotton, making it ultra-soft and durable. On top of that, the weave of the fabric is moisture-wicking, so if you a sweat a lot, you won't feel as damp and sticky. The two-button cuffs are customizable, and the collar works with or without a tie. Best of all, the material is fully wrinkle-free (with multiple customers vouching for it). The shirt is available in 12 different colors, including white, black, light blue, and rose, and others.
Fans say: "Very good quality and hasn't needed to be ironed. Great for nice occasions and easy maintenance."
Available sizes: 17 inch neck, 35 - 36 inch sleeve to 22 inch neck, 35 - 36 inch sleeve
The best short sleeve
If you hate tucking in your dress shirts, you'll love this option from UNTUCKit. The stylish, semi-casual men's dress shirt is specifically designed to be worn untucked. It's constructed with 100% cotton that feels remarkably durable, according to fans, and exceptionally soft. The lightweight material is great for warmer days when you don't want a long-sleeved shirt, and it's breathable, too. What's more, the fabric is completely wrinkle-free — and reviewers attest to this.
Fans say: "The shirt is comfortable and the material is soft and feels durable. The fit is perfect and the print is really attractive - attractive color combination that will pair with a variety of shorts and slacks. Delivery was right on time as promised. The shirt washes and dries wrinkle free, won't need an iron for this one. I am going to be ordering more!"
Available sizes: Small - XX-Large (Slim and regular fit)
THE BEST DRESS SHIRTS UNDER $50
The best classic fit
With more than 2,500 customer reviews, this extremely popular Van Heusen shirt not only ranks among the best men's shirts on Amazon — it's affordable, too. The wrinkle-free poplin material is made from soft, plain-weave cotton with fine horizontal yarns and a sharp, crisp feel. The weave makes the fabric thinner and more lightweight. The classic fit offers ample room in the shoulders, chest, and arms, while the waist is tapered for style. It has adjustable, two-button cuffs and a handy chest pocket for storing pens or small items. Plus, the shirt is offered in more than 20 colors.
Fans say: "I love this brand of shirts for three main reasons. 1) The colour is always as described. 2) The fit is always correct based on your measurements provided. 3) It actually comes out of my dryer generally wrinkly free and ironing doesn't take hours. I've bought a few of these shirts in different colours and the size, colour, and thermal compatibility with wrinkling of the material is always consistent. Would 100% recommend these for guys who want to consistently show up to work looking nice, but don't want to spend hours ironing or money on dry cleaning."
Available sizes: 14.5 inch neck, 32 - 33 inch sleeve to 18.5 inch neck, 36 - 37 inch sleeve
The best slim fit
This slim-fit men's shirt is sharp-looking yet also affordable. Designed with a fine checkered pattern, it's made from a smooth blend of cotton and polyester that makes it both soft and moisture-wicking. On top of that, it's breathable so you won't overheat or get sticky during warmer days. The spreadable collar has built-in stays to keep it in in place without a tie, and the two-button cuffs offer flexibility. If that's not enough, it comes in sixteen different colors, too.
Fans say: "These shirts are awesome and perfectly priced! This is my 3rd or 4th shirt from this collection and I would buy just about anything they sell after the quality from the first few shirts. I wear dress shirts as part of my daily wardrobe and these are perfect! Nice style and very comfortable."
Available sizes: 14 - 14.5 inch neck, 32 - 33 inch sleeve to 18 - 18.5 inch neck, 34 - 35 inch sleeve
The best big and tall fit
Made with 100% cotton, this soft IZOD option is one of the best dress shirts under $50. It's designed for big and tall guys, and features stretchy material that moves with you throughout the day. The material is breathable and flexible, with stain-releasing properties to keep it from getting dirty or wearing out quickly. The shirt also has moderate wrinkle-resistance, according to reviewers (though you may still have to give it a quick steam from time to time). That said, it remains a steal for the price. Constructed with a convenient chest pocket, too, you can get this shirt in more than a dozen different colors.
Fans say: "Love, love, love this line of shirts from IZOD. This is the third I have purchased from various vendors and for the price, I should have bought a couple more. They are comfortable and the fabric is slightly stretchy which adds to the comfort of big guys like myself. They hold their shape and color well."
Available sizes: Large - 5X (Big and tall)
The best short sleeve
If you're seeking something lighter, this breezy men's dress shirt offers a breathable blend of 60% cotton and 40% polyester. With more than 1,200 reviews on Amazon, it boasts a stylish, functional chest pocket and a classic fit. The relaxed collar can be worn with or without neckwear, and it comes in a handful of colors including white, blue, and yellow. Fans say it is "moderately" wrinkle-resistant, as a bonus.
Fan say: "My husband LOVES these shirts for work. The fit was exactly what he needed and the fabric was a lot nicer than what we were finding in the stores. Will most certainly be buying more!"
Available sizes: Small - 5X Large
Mic may receive a portion of sales from products purchased from this article, which was created independently of Mic's editorial and sales departments.