How to get your pet to stop making a mess in your home
Before you add that puppy to your home, you might want to check these products out first.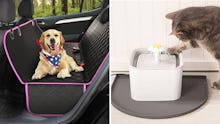 Amazon
We may receive a portion of sales if you purchase a product through a link in this article.
A clean home is a happy home, but as pet owners, maintaining a tidy space is undoubtedly challenging. Whether it be muddy paws or a messy meal time, upkeeping every room in the house with our live-in furry BFF requires a lot of work. But, don't give up just yet.
Surprisingly, there's actually a lot you can do to avoid your pet from rummaging around the trash and causing accidents. Ahead, check out this list of creative ways to keep your pet from making a mess around your home.