50 weird things on Amazon that are so damn clever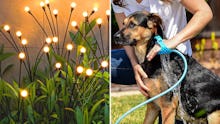 We may receive a portion of sales if you purchase a product through a link in this article.
If you're looking for something a little whimsical, a little surprising, and a lot functional, then you've landed in the right place. Among items such as a bath mat shaped like a fried egg and a knife that can make the chilliest of butter spreadable, you'll find the weird, clever thing you never knew you needed.
After all, who doesn't need a pancake batter dispenser to whip up diner-worthy flapjacks or a salad dressing mixer that emulsifies and pours directly from the container? Go ahead and browse away for even more weird yet practical delights below.