The NFL Is Squandering a Perfect Opportunity to Atone for Its Sins Against Women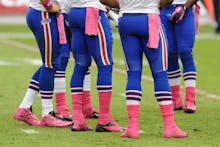 With the calendar flipped to October, NFL fans are hoping now is when they really start to see what their favorite teams are made of in 2014. Another expectation: the bathing of pink over all things NFL for the next four weeks.
This year, though, things will be a bit different for the league For those who don't know, October, the month most associated with orange and black, doesn't just carry the pink ribbon of breast cancer awareness. Since 1981, it's been painted purple to promote domestic violence awareness. And the NFL isn't just dialing back Pinktober this year — it's failing to recognize the golden, er, purple, opportunity right under its nose.
Image Credit: Getty
According to Uni Watch, the league is toning down its use of pink this month, a period when it traditionally festoons the field with the color for National Breast Cancer Awareness Month. We're not completely sure what that means yet, other than a "pink-free" slate of national TV games.
Uni Watch reported the plan for less pink has been in progress for some time and that it isn't related to the NFL's recent domestic violence issues, though the timing certainly isn't good. And if you're the NFL and you've already made the decision to tone down the pink, why wouldn't you want to hype the purple just as much or more? Commissioner Roger Goodell says he wants to help. It seems an easy way to start (and I stress this would be a start, not a solution) is to trot out purple on socks, wrist bands, shoes, mouthguards and hats every Thursday, Sunday and Monday throughout October.
Then put your money where your mouth is and purple the NFL shop. Let's see lavender Rodgers, Luck and Wilson jerseys in online shopping carts, and give the National Coalition Against Domestic Violence at least as much as the 8.01% the American Cancer Society reportedly receives from Pinktober sales.
Image Credit: Getty
There's no need to belabor the point on why this makes sense. Instead, just remember these six NFL players involved or still allegedly involved in domestic violence cases in the past 12 months, according to UT-San Diego:
Cardinals running back Jonathan Dwyer: arrested for allegedly punching his wife in the nose and throwing a shoe at his infant son
Jets wide receiver Quincy Enunwa: charged with causing bodily injury by pulling a woman off a bed, injuring her head and finger
49ers defensive tackle Ray McDonald: arrested on suspicion of hitting his pregnant girlfriend
Panthers defensive end Greg Hardy: convicted after assaulting his girlfriend and threatening her life
Ravens running back Ray Rice: charged after knocking out his then-fiancé in a casino elevator
Vikings cornerback A.J. Jefferson: charged after choking his girlfriend in a fight
The number may not seem like much, but consider this. All six players made headlines for their situations. A majority of the other 10 million victims in the past year never saw their names or stories in newspapers or on TV. These instances put the league in a position to give those 10 million a voice they haven't had, so NFL:
Why not #VioletOutViolence this #Pinktober?
Image Credit: Getty