11 Times Kanye West Actually Had a Really Great Point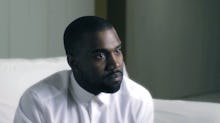 The biggest story of the Grammys, predictably, is Kanye West's attempt to upstage Beck and his backstage 'rant.' As usual, the media loves a story about West's hypocriticism and lack of filter. And as usual they're completely missing what West is all about.
In an era of PR savvy and political correctness, Kanye West is hard to take. His interviews and mid-concert speeches often spiral into self-aggrandizing or offensive territory. He's always taking things a step further, and criticisms of everything he says are proven-viral content for most websites, especially when you call them a "rant." But there's one important thing we've been ignoring about Kanye for too long now — he usually has a point. Sometimes, he has a great one.
First off, Kanye's suggestions to Beck aren't hypocritical — as Matthew Trammell details over at Fader, Kanye is the first to give his awards to musicians he feels deserve them more. He isn't an egotist so much as he is genuinely committed to his craft. After speaking with Kanye, famed novelist Bret Easton Ellis described the conversation as "mind-blowing." "We all are [narcissists]," Ellis told Vice. "We're all here. And he's one of the few people who will admit it, and I like him for that and I wish more people would follow suit."
So take a moment and think about the things Kanye actually says when he's "ranting."
1. On ego and art
"[P]eople say, 'Why do you want to destroy your name?' But I don't care about my name as much as I care about my ideas. I could do something completely wrong, and people could hate it, but then someone else could see it and do it completely right. And it's a push forward for civilization."
— W Mag, June 19, 2013
Critics accuse Kanye of vanity more than any other sin. What many miss is his dedication to music and culture above himself; he cares more about advancing the forms he's devoted himself to than promoting his own brand.
2. On design
"Nike told me, 'We can't give you royalties because you're not a professional athlete.' I told them, 'I go to the Garden and play one on no one. I'm a performance athlete."
— Hot 97's The Angie Martinez Show, Nov. 25, 2013
Recently, Kanye has been slammed for his "ridiculous" aspiration to work in fashion. But Kanye West's Air Yeezy 1's and 2's are two of the most profitable and groundbreaking shoes Nike has ever released. Every color of the sneaker giant released sold out almost immediately, and the shoes still have astronomical aftermarket value.
But despite all this success, Nike refused to allow Kanye to share in any of the rewards, all because he wasn't an athlete, which makes no sense. A hit shoe is a hit shoe, no matter whose name is on it. Adidas understood this and snatched up West as soon as he quit Nike. Soon we will have an entire line of Yeezy Adidas products, which will hopefully look as baller, if not more so, than those Yeezys.
3. On government
"I believe that utopia is actually possible — but we're led by the least noble, the least dignified, the least tasteful, the dumbest and the most political. So in no way am I a politician — I'm usually at my best politically incorrect and very direct."
— Speech at Harvard University's Graduate School of Design, Nov. 17, 2013
A Congress full of Kanyes would definitely not make for an efficient government, but our country's current hyper-partisan politics is getting us no closer to an ideal society. Kanye's commitment to provocation is the same as a commitment to honesty — to actually being heard as opposed to toeing the party line.
4. On celebration
"When I had my accident, I found out at that moment nothing in life is promised except death. If you have the opportunity to play this game of life, you need to appreciate every moment. A lot of people don't appreciate their moment until it's passed. And then you gotta tell those Al Bundy stories — 'You remember when I...?' But right now is my time and my moment thanks to ... everyone that's helped me. And I plan to celebrate. I plan to celebrate and scream and pop champagne every chance I get ... Everybody wanted to know what I would do if I didn't win. I guess we'll never know."
— 47th Annual Grammys, Feb. 13, 2005 
When The College Dropout won the Grammy for Best Rap Album of the Year at the 47th Grammys, it was an affirmation of everything good about Kanye. The album celebrated his tenacity and his faith, his hopefulness and his insistence that art can save lives. In his acceptance speech, Kanye reaffirmed the idea that accomplishments should be celebrated and shared, not downplayed. To some, it sounds like bragging; to others, like joy.
5. On commodification
"I've had meetings where a guy actually told me, 'What we're trying to figure out is how we can control you.' In the meeting, to me! Why do you want to control me? Like, I want the world to be better! All I want is positive! All I want is dopeness! Why would you want to control that?"
— The New York Times, June 11, 2013
There's an unspoken undercurrent in many of today's artistic businesses that creative people are tools, content-makers off whom the business people profit. This mentality has bankrupted our pop music and forced all big-budget Hollywood movies into the molds of sequels, book adaptations and superhero movies. Market research and monetary interests make the real decisions, and creative people follow in the wake. If more artists stood up for themselves in the unflinching way Kanye does, our world would be a far more exciting, unpredictable and artistic place. 
6. On music sounding the same
"But it's still sometimes like there's no good ideas. And no real ideas and nothing sincere left. And everything has been so homogenized. And it's all big business and it's no creativity ... Honestly, at this point, when I listen to radio, that ain't where I wanna be no more."
— London Hammersmith Apollo, Feb. 23, 2013
It is a methodically studied and scientifically proven fact that music on the radio is getting more homogenized, with less melodic, harmonic and timbral variations between songs than ever before. This trend is motivated largely by big business decisions. Music industry executives want to ensure the huge investments they put into pop songs, and the best way to do this is to write a song that sounds like an artist's last hit. Kanye went out on a bold limb with Yeezus, and it didn't pay off in many ways, but it undoubtedly will be remembered as a significant artistic milestone. The vast majority of the albums containing today's radio-ready rap singles will not. 
7. On failure
"If everything I did failed — which it doesn't, it actually succeeds — just the fact that I'm willing to fail is an inspiration. People are so scared to lose that they don't even try. Like, one thing people can't say is that I'm not trying, and not I'm not trying my hardest, and I'm not trying to do the best way I know how."
— REM, May 2012
A fear of failure is one of the biggest impediments to free and purposeful action. It is the engine that drives the homogenization of the music industry; it keeps people tied down to their miserable 9-to-5s; it keeps people from asking the girl or boy of their dreams to coffee. And it is something that Kanye does not experience.
8. On talking shit
"[W]hen this [interview] goes online or wherever it is — it really matters and then it like really doesn't matter. What matters is the people who are sparked by it, and the people who are like offended by it, it doesn't fucking matter — fuck you. Because it's about motivating the doers, and anyone who wants to sit around and talk shit, they're taking too much time talking shit instead of getting up off their ass and follow their dreams."
— REM, May 2012
There's a subtle flaw with this argument: Talking shit and following one's dreams are not mutually exclusive activities. Just take a look at Perez Hilton or Bill O'Reilly. Kanye would do well to consider his own advice and ignore more of the mudslinging he receives in the press. If he didn't let so much of it get under his skin, he wouldn't have to spend as much time arguing with tabloids, and Yeezus might have been a less angry album. 
9. On partnerships
"It's picking up skill sets that give you longevity. That's what I like about Jay. He has longevity. He's still at the top of relevancy from the way he moves, the way he interacts with people, his ability to brush things off of his shoulder and just win at life. He's the poster child of winning. And I think I was the poster child of, like, fighting and winning. But you always saw the fight. And with Jay, you always saw the win."
— GQ, July, 2014
This is really the perfect encapsulation of the Kanye and Jay-Z bromance. Jay is calm, cool and collected (and far less creative), and Kanye is impassioned, fiery and erratic (and far less beloved). This is what made Watch the Throne such a dynamic experience. To quote another interview: "Jay is more realized than me, meaning more of his dreams and hopes and aspirations have come true. And, God willing, by the time I'm his age, that thing will happen for me also and I'll be in a more zenned-out place."
10. On family
"Family is super cool. Going home to one girl every night is super cool. Just going home and getting on the floor and playing with your child is super cool. Not wearing a red leather jacket, and just looking like a dad and shit, is like super cool. Having someone that I can call Mom again. That shit is super cool."
— GQ, July, 2014
Even though Kanye is fiercely criticized for his relationship with Kim Kardashian, it's possible to see it as very much aligned with his old emphasis on family. It's refreshing to see someone keep it down to earth and speak about the simple joys in life that everyone can experience without having an infinitely deep wallet, or infinitely fresh disposition.
11. On I'mma let you finish
"...'Cause I still ain't seen a video better than Beyoncé to this mothafuckin day!"
— "Visionary Stream of Consciousness" at the Barclays Center, Nov. 20, 2013
It wasn't OK for Kanye to interrupt Taylor Swift, but the whole VMA controversy really says more about the vacuous, political nature of award shows than it does about Kanye's attitude or about Swift's art. How can "Single Ladies" win Best Video, but not Best Female video (where it was beaten by Taylor Swift's "You Belong With Me")? It's a logical fallacy, which Kanye was right to point out. And Beyoncé's video really was better. Whether or not her album was better than Beck's is unclear — the point is it should be up for debate.
Updated February 10, 2015
Correction October 15, 2014 - This article originally credited items nine and 10 to the Jon Caramanica's "Behind Kanye's Mask" in the New York Times. The quotes were both from Zach Baron's "Kanye West: A Brand-New Ye" in GQ.