Taylor Swift Didn't Turn Country Into Pop. Dolly Parton Did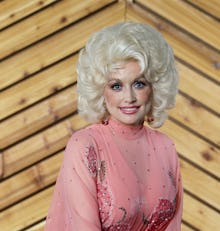 On Oct. 27, Taylor Swift releases what she calls her "first documented official pop album." To many, the idea is shocking: The woman who'd made country-pop a real thing is about to move fully onto pop, leaving country to the bros and its devoted traditional fans.
But all the hubbub over her new single and the idea that she was leaving pop-country for pop is ridiculous — she isn't, but even if she did pop-country would still be a real and storied genre. People talk about her like she made pop-country a thing, but Taylor Swift didn't turn country music into pop music. Dolly Parton did. 
Most modern music fans know of Dolly Parton, but few are truly familiar with her music or life. The first few years of Parton's career were textbook country. The day after she graduated high school in the late '60s, she moved to Nashville and started trying to make it in music. She found relative fame fairly quickly with a recurring spot as "Miss Dolly" on big deal singer Porter Wagoner's country music radio show, but it wasn't until 1973 that she truly made a name for himself.
That was the year she released "Jolene." After the release of the title track on her debut album, it was clear that Parton was destined for something huge. The song quickly rose to No. 1 on the Billboard country charts. It was a monumental success — and a song that she had written herself. But the track's real success was its crossover appeal. As Jim Beviglia writes in American Songwriter, the song "isn't contained by genre boundaries, especially since the singer finds a way of tackling the familiar popular music topic of love triangles in a somewhat novel manner." It was the song that showed audiences that she was more than "Miss Dolly."
That's why it became a lynchpin of her career. It's been covered more than any of her other songs and remains highly respected throughout the music community. Rolling Stone calls it "one of the most obsessively complex love stories ever captured in a country song." It helped Parton land on her feet after jumping off the comfortable country circuit, and it cemented her status as the first great country-pop crossover, reinforced decades later when Miley Cyrus, another country kid turned pop star, covered the song.
Parton did it again in 1977 with "Here You Come Again," a single that went gold and hit No. 3 on the pop charts in early 1978. The track has a bouncy piano, a heavy dose of synth and a classic pop fade-out, but still it had a country flavor. As CMT commented, "[s]he successfully erased the line between country and pop music without noticeably altering either her music or her image." Parton said at the time, "I'm not leaving country, I'm just taking it with me."
And she did. In the 1980s, Parton dabbled even more with mainstream sounds, including that generic '80s production style. But her audience still loved her, and she's hung on throughout the '90s and 2000s, keeping her work infused with other genres and her attitude consistently her own. "For me, I've always been in the music business," Parton said while promoting her most recent album, Blue Smoke. "I always think of the business end. [...] You've gotta roll with the times, roll with the punches." 
Well before Taylor Swift, before "22" or "Out of the Woods," Parton knew how to make a hit by mixing country and pop. Swift's genre-blending on her soon-to-be released 1989 is nothing new; she's merely following a true icon and trailblazer, and she's doing it admirably.
Who knows: With supporters as great as the Country Queen herself, maybe Swift will one day win respect from both sides of the genre aisle — just like Dolly did.