Miley Cyrus Just Gave Us 500,000 Reasons to Love Her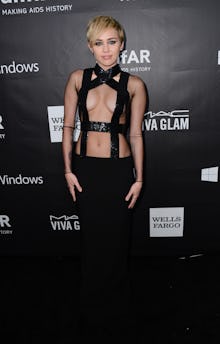 You might ordinarily cringe when you see Miley Cyrus' name in the news. This time, it's a different story.
Cyrus gave half a million dollars to HIV/AIDS research this week as part of the amfAR LA Inspiration Gala in Los Angeles, which brought celebrities together for donations to fight the disease.
"It's so important for me of all people to represent because I have a voice and I want to start an open dialogue about prevention," Cyrus said, according to Variety. "Obviously I'm not too embarrassed to talk about these things especially with young people."
The event: Cyrus' first $300,000 came when she beat out Rihanna and designer Tom Ford in an auction for a print from photographer Ryan McGinley.
Cyrus, Rihanna and Ford donated an additional $200,000 each, helping the gala raise more than $3 million. "There is a reason to remember the fear and decimation of the '80s and to remember there is still no cure," said Kenneth Cole, chairman of amfAR, per Variety. "This organization is the most powerful tool in which to fight and ultimately cure AIDS."
Miley joins some of the richest of the rich in using their money to combat disease — Facebook's Mark Zuckerberg donated $25 million to the CDC to help fight Ebola while Microsoft's Bill Gates gave $50 million to fight the same disease in West Africa.
What it means: While there have been major strides in research on the disease in the past few decades, there were still about 1.6 million deaths from AIDS and AIDS-related illnesses worldwide in 2012, according to the World Health Organization.
Image Credit: WHO
In the United States alone, the CDC estimates that there are more than 1.1 million people living with HIV. Nearly one in six may not be aware that they have it.
Donors like Cyrus have helped make life expectancy for those living with HIV in the U.S. to dramatically increase. There are still dramatic inequalities — both between countries and in terms of health care affordability — but things are looking better than ever.
h/t Huffington Post