These 13 Singers Are the Definitive Cover Artists of Our Generation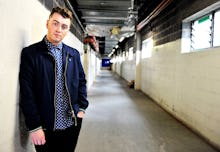 It's easy to a define a musician by their biggest hit, but often the greatest mark of talent is a musician's ability to cover a song well.
The ability to empathize with someone else's original song and perform it with integrity, respect and a personal touch is a profound talent. In fact, it's a talent that has defined some of the best artists throughout generations.
One of Eric Clapton's most recognizable songs is a Bob Marley cover. Jimi Hendrix played the definitive version of Bob Dylan's "All Along the Watchtower." When they started, the Beatles and the Rolling Stones were predominantly cover bands. Even Beethoven found early success playing and studying the works of Mozart and Haydn. The greatest musicians typically begin as cover artists.
The following contemporary artists are acclaimed for their own songs, but more than anything they are the definitive cover artists of our generation.
Here are the 13 songs that prove it:
1. Kelly Clarkson's Cover of "Stay With Me" by Sam Smith
Kelly may take the crown for queen of covers. She's astonishingly prolific, covering everything from country, pop, gospel and rock. Of course, this won't come as a surprise to most: She debuted as the first American Idol, making her the original best cover artist in the country.
It's tough to pick a favorite — her version of Radiohead's "Creep" immediately induces goosebumps, her "Cry Me a River" is even more emotional than Justin Timberlake's and she's even done Eminem's "Lose Yourself."
Her most recent cover of Sam Smith's "Stay With Me" is spectacular on a whole new level, though, matching Smith's stellar vocal power and emotional intensity pitch-for-pitch. 
2. John Legend's Cover of "What Going On" by Marvin Gaye
"What's Going On" marked a pivotal moment in Marvin Gaye's career. Gaye's friends, members of the Four Tops, wrote the song after witnessing horrific acts of police brutality and violence in Berkeley, California. They gave Gaye the song, who took it, saying, "With the world exploding around me, how am I supposed to keep singing love songs?"
Sadly, the song could not be more relevant today. John Legend covers it here with some students from the Duke Ellington School for the Arts, hoping to inspire young people to make art themselves. Legend, who is a feminist and anti-racism advocate, is the perfect choice to bring this song back into our social consciousness.
3. Lianne La Havas' Cover of "He Loves Me" by Jill Scott
The U.K.'s Lianne La Havas may strip the beat of Jill Scott's "He Loves Me" down to a single guitar, but she leaves the essence of the song unchanged.
It is primarily a love song, but it's also filled with fierce self-love. And it doesn't hurt that it's incredibly sexy. La Havas explains that her mother used to listen to Scott, and she fell in love with the vocalist when she was about 12, so the performance oozes with an intimate knowledge and appreciation for the song. La Havas's own work isn't too far removed from Jill Scott; it's honest, true and beautifully sung.
4. Haim's Cover of "Wrecking Ball" by Miley Cyrus
Sisters Este, Danielle and Alana Haim became superstars in 2013 after Days Are Gone, the album that broke them seven years after they began playing. Their sound is often compared to Stevie Nicks of Fleetwood Mac (the two acts have even come together to sing one of Nicks' classics, "Rhiannon") and the band has done some other fantastic old-school covers, too.
Haim's brightest cover, however, is its most modern. The band deconstructs Miley Cyrus' "Wrecking Ball" into an almost unclassifiable new sound. It soars like a pop hit and cuts like a country classic. It's the perfect cover of an artist who dabbles in many different genres herself.
5. Arcade Fire's Cover of "Heart of Glass" by Blondie
Arcade Fire already had a reputation for raucous live shows, but the band really delivered on its recent Reflektor tour. At many stops, members performed covers specific to the locale, spanning from the Smiths to INXS to ABBA to Boyz II Men.
Their cover of "Heart of Glass," though, is easily one of their best. They take the simple classic and flesh out the arrangement, making it bigger and badder than ever before. They even performed it with Debbie Harry herself at Coachella.
6. Janelle Monáe's Cover of "Heroes" by David Bowie
Janelle Monáe has done some pretty wicked covers in her time, including paying homage to legends like Jimi Hendrix and Michael Jackson. But her tribute to David Bowie is the most perfect match.
She says it herself: The two share a lot of "musical DNA." They're both artists who break the mold, present a subversive aesthetic with pride and pave the way for other musicians everywhere. Monáe turns the grand melancholy of Bowie's "Heroes" into an ecstatic dance number. They're reportedly both fans of each other, and this intense mutual respect is what makes the "Heroes" cover so fresh yet so timeless.
7. Somo's Cover of "Take Care" by Drake
Joseph Somo was an undiscovered R&B singer from Texas a few years ago, working hard to distinguish himself from other YouTube singers. His hard work paid off, and now he has a record deal and a huge hit on the radio, "Ride."
That's because, instead of simply covering songs, Somo found success by doing medleys — taking whole albums, picking the best parts and melding them together into something completely new. His most famous cover of Drake's 2011 album is his best, drawing out every emotion packed into Drake's lyrics and bringing in over 5 million views.
8. Adele's Cover of "Make You Feel My Love" by Bob Dylan
No covers list would be complete without Adele. Because of her unbelievable voice, she's often called upon to perform big "diva" songs, but her most breathtaking work is definitely Dylan's oft-covered "Make You Feel My Love."
She actually included the song on her debut album, making it popular among a generation who wouldn't otherwise have heard it. Delivered in Dylan's twangy whisper, the original sounds wistful, but Adele's version is a knockout.
9. Solange's Cover of "Stillness in the Move" by the Dirty Projectors
It's no secret that Solange Knowles is a fan of indie music, even introducing more mainstream sis Beyoncé to acts like Grizzly Bear. Her own music is an enticing blend of diverse genres, and her covers run the gamut, too, from Selena to Kate Bush.
Solange's most famous cover is of "Stillness in the Move," the 2009 hit that, perplexingly, sounds both like Mariah Carey and Björk. Solange's take on it is slower and lusher, but her incredible vocals ably match the infamous vocal range of the Dirty Projectors' singers.
10. Ellie Goulding's Cover of "Only Girl (In The World)" by Rihanna
Ellie Goulding does almost as many covers as Kelly Clarkson, which is great news, because they are truly all out of this world. She especially clearly labors over making her own unique arrangements.
Her most famous is certainly that of Elton John's "Your Song," which she sang at the wedding of Prince William and Kate Middleton. But it's hard to pick her best — from Bon Iver to The Knife to Robyn, she's able to utterly transform songs. Her cover of Rihanna is stunning, taking the club hit and making it orchestral and devastating.
11. James Blake's Cover of "A Case Of You" by Joni Mitchell
James Blake does a lot of sampling, and his results are sometimes controversial. As an experimental electronic producer and musician, his covers aren't straightforward; they're more like innovative remixes.
However, his Joni Mitchell cover is Blake laying it on the line. There are no special effects, as he honors a musician he has loved for years. His gorgeous baritone warbles through, putting an even more heart-wrenching twist on Mitchell's already blue tune. 
12. Sam Smith's Cover of "How Will I Know" by Whitney Houston
Sam Smith's voice is unparalleled. His concerts are likened to transcendent experiences. His gentle but robust alto and flawless falsetto are due to years of rigorous classical training, but his ability to empathize with any lyric is something nobody can teach. This uncanny skill catapulted him to fame this year, although it seems like he's been around for much longer. His cover of Whitney Houston packs a serious emotional punch.
13. Chance The Rapper's Cover of "Believe In Yourself" by Ziggy Marley
Chance The Rapper is known for his sweet and trippy rap music. His mixtape Acid Rap has been widely acclaimed for appealing to all audiences. Recently on tour, Chance started pulling out a cover of Ziggy Marley that we all know much better as the opening theme to '90s kids show Arthur. His official version, recorded with Jessie Ware and Wyclef Jean, is absolutely lovely. Titled "Wonderful Everyday: Arthur," it's cinematic, positive and nostalgic.