16 LGBT Musicians Who Are Shattering Stereotypes and Making It Big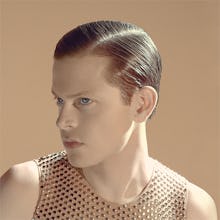 This was the year that country music came out. It was the year that Sam Smith showed that love songs don't have to be heteronormative to be beloved. And through it all, same-sex marriage laws swept the states.
The significance of this year and the role of music within it cannot be overstated. With LGB teens four times as likely to attempt suicide than heterosexual teens, it's crucial for music to fight the misconceptions that lead to oppressive social norms. And this year more than most, music stepped to the plate.
Hearing your humanity represented and validated by pop culture is important, and this year many LGBT musicians truly stepped up to share their experience. Here are the 16 LGBT artists who shattered stereotypes in 2014.
1. Sam Smith
No one can deny that 2014 was Smith's year. He started off as a relatively unknown artist, released the inimitable "Latch" with Disclosure and is closing off the year with a whopping six Grammy nominations.
His voice, equal parts powerhouse belt and heartbreaking falsetto, is now ubiquitous on the radio. His album, In the Lonely Hour, is as relatable as it is critically acclaimed, and it is mostly about the experience of unrequited love. Smith came out publicly in May, stating that he wanted to be clear on what his album was about.
"It's about a guy and that's what I wanted people to know." He is also completely aware of how important his success is to the public narrative, saying, "My aim is to tell people how good it's been for me so that, hopefully, gay men or parents with gay children can look at my story and think, Wow, that's how it should be. That's what we can work towards. That's been my whole motive — to not make it a talking point. My music should be a talking point."
2. Le1f
Le1f got his start as a 17-year-old student at Wesleyan University, producing tracks for comedy hip-hop group Das Racist. In 2012, he successfully transitioned to a solo career with his huge hit "Wut."
The rapper is multitalented — his undergraduate degree in dance only helps make his shows vibrant, communal and fun as hell.
"I want people to dance at my shows ... I want the music at first to be really, really rejoiceful." At first, Le1f was cautious about speaking out too loudly about his identity in the largely queerphobic hip-hop community, but he's embraced it fully in 2014.
"Ask a gay question, here's a black answer," he raps on his 2014 EP Hey. He skillfully uses braggodocio, often an overtly masculine component of hip-hop, and subverts it: "New world order, LGBT cuties all over the world are diamonds and pearls."
3. Mary Lambert
Everyone fell in love with Lambert's voice after she sang the hook on Macklemore's platinum hit "Same Love."
This year, though, she stepped into the spotlight in her own right. She released "She Keeps Me Warm" as an offshoot of "Same Love," written about her experience as a lesbian with a strong Christian upbringing. Lambert didn't stop there — she was brave enough to be even more vulnerable on her 2014 hit, "Secrets," where she speaks about bipolar disorder and body image issues.
"I think when you tell your secrets, it gets rid of a lot of the stigmas that they have," she told Radio. A spoken-word artist and writer as well, she makes music to support her fans emotionally, encouraging them to cry and heal at her concerts. A fan cited "Same Love" as one of the reasons she felt she could come out to Lambert, who responded, "The fact that music was able to do that? That I could have been a part of that, and that she felt safe enough to tell me? I know how strong you have to be to do that. If I can give that fight to somebody, then I want to keep doing it."
4. Azealia Banks
Bisexual rapper Banks had a prodigious start in the industry — her massive dance hit "212" was possibly the biggest dance track of 2012. But since then, her fans have been consistently denied her fabled Broke With Expensive Taste due to prolonged label difficulties.
When Banks released the record unexpectedly this fall, she sent the musical blogosphere into ecstatic frenzy. Broke With Expensive Taste was one of the boldest albums of 2014 due to her powerful lyrics, her incredible flow and her powerful meshing of genres. She blends disco, house, pop, Caribbean music and, of course, her gritty native New York sound.
Complementing her music is Banks' prolific career as a public figure. She's especially active (and a little explosive) on Twitter, calling out artists like Iggy Azalea on their cultural appropriation and exploitation. In a now-infamous interview with Hot 97 in December, Banks gave an emotional indictment of America's treatment of hip-hop and black people.
Banks is a controversial figure, but she's inspirational in her refusal to conform to any stereotypes at all. In an early interview with the New York Times, she said, "I'm not trying to be, like, the bisexual, lesbian rapper. I don't live on other people's terms."
5. Tyler Glenn of Neon Trees
For Glenn, lead singer of New Wave pop group Neon Trees, the rise to fame that came after being spotted and picked up by The Killers was a double-edged sword. It meant he, a Mormon man, would have to hide his sexuality from even more people.
Glenn grew up as a closeted gay man in the intensely religious town of Provo, Utah, and spent two years after high school on a mission trip seeking converts to Mormonism, meanwhile listening to banned secular music. The emotional tax became too high, and Glenn took time away from touring to start therapy before ultimately coming out publicly this past spring.
These painful and charged experiences, unearthed and explored in his counseling, became the material for Neon Trees' latest album, aptly named Pop Psychology. The album retains the inherent danceability they have built their success on, but adds to it a deeper, more heartfelt lyricism.
6. Conchita Wurst
Thomas Neuwirth, better known by her drag persona Conchita Wurst, had an amazing year. After appearances on assorted Austrian TV programs, Wurst was selected as the nation's representative to the 2014 Eurovision Song Contest, despite significant backlash against her gender nonconformity both within the country and throughout Europe.
But the 26 year-old's rendition of "Rise Like a Phoenix" was so undeniably exceptional that she was crowned the winner. The song reached the top three iTunes downloads in 14 countries, including those that had most vehemently protested her participation. She exemplified how to use the celebrity platform for positive change by inviting fans to wear knitted beards in solidarity. She has since blown up as a European queer icon, headlining at least half a dozen pride events, and performing at the European Parliament as well as the United Nations Office in Vienna, where she was commended by Secretary General Ban Ki-moon. She has since become involved with the It Gets Better Project, an organization designed to use media figures like Wurst to let LGBT teens know they aren't alone.
7. Sia
While "Chandelier" marks Australian artist Sia's largest solo success to date, if you've been listening to the radio at all in the past few years, then you're already familiar with her work.
Sia has collaborated with dozens of the most popular artists, writing, among many other things, "Diamonds" by Rihanna and "Pretty Hurts" by Beyoncé. Sia is incredibly open about her fluid sexuality too, something refreshing for mainstream music. 
"I've always been honest if anyone ever asked me," she told Same Same in 2009. "Before I was actually successful I'd always said I've always dated boys and girls and anything in between. I don't care what gender you are, it's about people. I didn't just recently open up, I just recently got famous! I've always been … well, flexible is the word I would use."
Her latest album, 1000 Forms of Fear, addresses sexuality as well as her battles with depression, alcohol and drug use, demonstrates a craft for lyricism and a powerful, compelling vocal style. "Chandelier" in particular has garnered considerable attention, ranked by many as the No. 1 song of the year. The fact that these attitudes have been behind some of the biggest hits of the past decade is only reassuring.
8. Kele Okereke of Bloc Party
Okereke has been making music since 2005 with British alternative rock band Bloc Party, but the band has been on hiatus since 2013. A lot has changed since the band's early days — Okereke has traded post-punk for a brilliant solo electronic career, and he's explicitly addressing his experience as a gay man in his music.
He released his second album, Trick, in October, with some music blogs claiming it was the best music he's ever produced. Okereke wrote an article for Vice "On Being Gay and Black in the Dance and Rock Worlds," in which he addresses the music industry's racism and homophobia incisively.
"Rock music is one of the few areas in music where it seems diversity is not to be encouraged. Can anyone remember the last time a major British music magazine put a non-white face on its cover?" he asked, going on to explain further that his transition to the dance music world was to escape this oppression. "In this world, my race and sexuality were not a problem to be hinted at. They were to be celebrated."
9. Adore Delano
Delano is no stranger to success — she finished in the top 16 of the eighth season of American Idol, and the top three of the sixth season of RuPaul's Drag Race.
Since then, Delano has been making club jams like "DTF" and "Party," the latter of which broke Billboard records as the most successful song released by a drag race contestant. But her success doesn't make her arrogant at all — she defends her peers by saying everyone is just being true to themselves, and that she tried going mainstream, "to carry on the legacy of RuPaul." Her most popular songs are danceable and fun, but her vocals also shine through on her slower songs, like summer single "I Adore U."
10. Billy Gilman
The year 2014 has been an important one for queer voices in country music, especially at the end of the year. Kacey Musgraves, a straight woman, won song of the year for "Follow Your Arrow" at the CMA Awards. Shortly thereafter, country star Ty Herndon came out. Billy Gilman, in an act of solidarity, came out a day later.
"It's difficult for me to make this video, not because I'm ashamed of being a gay male artist, or a gay artist or a gay person, but it's pretty silly to know that I'm ashamed of doing this knowing that I'm in a genre and an industry that's ashamed of me for being me," Gilman said. Gilman was a country star at just 11 years old, with "One Voice," a top 20 hit on the country Billboard charts.
This year, Gilman released the romantic and celebratory "Say You Will" and hosted the American Music Guild's Heritage Awards, where he won for Mainstream Artist of the Year. That kind of exposure and acceptance is a huge step for LGBT country music fans.
11. Andy Butler of Hercules and Love Affair
In 2008, Andy Butler created Hercules and Love Affair, a dance music project with a rotating cast of musicians. Butler, who grew up in an abusive household, found solace in Greek mythology and club music. He became famous for "Blind," a song performed with musician and friend Antony Hegarty, which won Pitchfork's Best Song of 2008.
"'Blind' was about growing up a gay kid, my immediate family and social group rejecting me, and asking why I was born into this situation. But knowing that as soon as I could escape, I would, and that I would find freedom and solace. As an adult, however, I found a life full of excess and other wounded people and confusion. Thus, I felt blind," he told the New York Times.
The project for 2014, Feast of the Broken Heart, is a sonic achievement, with peaks of joyful energy, homage to disco and also heartwrenching emotional lows. The album was a collaboration with Viennese house revivalists and also features a song with John Grant, who sings about being HIV-positive.
12. Lowell
Lowell, 22, dropped her debut album We Loved Her Dearly in the fall, a masterful pop album interwoven with politics. She worked as a stripper after dropping out of college and candidly writes of her experiences.
"I don't think there's anything wrong with using sex to empower yourself," she told Rolling Stone, but added that the taboo against sex work is what drives the victimization that often occurs in the industry. Openly bisexual, Lowell also penned "LGBT," which has been interpreted as an anthem of sorts. "Why are you afraid of how I feel? L-G-B-T, L-O-V-E, oho, don't hate our love," she sings, which is juxtaposed with unyielding lines about homophobia like, "They never choose who they like, so they like me dead."
Lowell uses the uplifting power of pop music and encourages her audience to have fun, while also using the medium to deliver essential messages. 
13. Perfume Genius
In 2012, Mike Hadreas of Perfume Genius received attention from the blogosphere, but it wasn't for his talent. The YouTube ad for his second album was banned and deemed not "family safe," since it showed two men in underwear hugging. The move was an outrageous double standard, considering how many heterosexual videos with those images are allowed, and it was especially poignant as the album featured a song on Hadreas' anxiety about engaging in PDA with his boyfriend.
Thankfully, 2014 has treated Hadreas far better. Too Bright is honest, compassionate and dynamic, with standout songs like "Queen" dominating music's "best of" lists.
"No family is safe, when I sashay," Hadreas sings, confronting the pernicious stereotypes that he has fought his whole life and defiantly reclaiming them as his own.
Hadreas further stated in a press release: "I've seen faces of blank terror when I walk by. Sometimes from seemingly strong, macho dudes — somehow my presence confuses and ultimately scares them. There is a strange power to it that I've only recently begun to understand and embrace. After many years trying to sort out exactly what they are scared of, most of the time converting the result into personal shame, there are now moments of monstrous pride."
14. Against Me!
Against Me! and in particular lead singer Laura Jane Grace are responsible for putting out one of the best, most radical albums of the year. After suffering from gender dysphoria most of her life, Grace transitioned in 2012 and began working on the album that would eventually become Transgender Dysphoria Blues, released in January.
While it is the band's sixth studio album, many of the members are relatively new, as is the record label, which is Grace's own label and the album was recorded in a studio she built herself. The ideas and emotions that unfold aggressively over the album's heavy rock instrumentals, however, are far from new — they are the product of years of pain.
"Dealing with depression is really what a lot of that's about. On the surface level, the album may be transgender-themed, but underneath it, there are those universal themes — alienation, depression, not being happy — that I think that everybody can really identify with." In an outstanding act of love and community, Grace shares her own life not just in her music but also in a Web series she produced called True Trans to affirm the experiences of others.
15. Angel Haze
Haze released her first studio album Dirty Gold in the last few hours of 2013, but most of the hype surrounding it came this year. She released "Battle Cry," a collaboration with Sia, which was nominated for a VMA for Best Video with a Social Message; the lyrics are explicitly about overcoming past pain resulting from social oppression.
Haze is pansexual, defining it as "someone who sees people for who they are and not gender." She is dating model Ireland Baldwin and is outspoken about how the media incorrectly reports on their relationship.
"Everyone just calls us best friends ... an interracial gay couple, I mean that's just weird for America right now," she told the Independent. She has always been an influential advocate for activism and equality, actively combating racism, rape culture and queer-phobia in her lyrics.
She's fond of reshaping pop culture in an LGBT-friendly way, too. She rewrote the lyrics to Macklemore's "Same Love" and quoted queer poet Andrea Gibson in the song. She even did a cover of Eminem's "Cleaning Out My Closet," where she recounts the sexual abuse she suffered as a child. She describes her music as 20% a "personal creative outlet and 80% a way to show her fans that they are not alone." 
16. Hurray for the Riff Raff
Hurray for the Riff Raff are veterans in the queer music scene, releasing their sixth album this year. They are a collective based in New Orleans making bluesy folk music headed by Alynda Lee Segarra, a Puerto Rican woman from the Bronx who left home as a teenager, found herself in Louisiana and formed a band after learning how to play the banjo. Yosi, who is transgender, is the band's fiddler, and Segarra identifies as queer.
"You don't see a Puerto Rican girl play the banjo in a honky-tonk very often. You don't see a transgendered drummer/fiddle player very often. It's awesome. I think it's powerful that we'll play songs with the Tumblweeds and show publicly that we accept and love each other as musicians and people. I hope that kind of acceptance and respect is contagious," she told Cherry Grrl.
Most recently, they released a video for "Body Electric," a song that addresses violence in LGBT communities, communities of color and against women. The video features classical imagery in a political context, "replacing the Botticelli's Venus with a Katey Red, the transgender mother of 'sissy bounce,' is something that speaks clearly without having to be salacious or heavy-handed," the song's producer told NPR, which dubbed the song "the political folk song of the year."
The group is both reinvigorating the original strength of folk as a fundamentally American protest art while reinventing what an American folk band can look like.