Kehlani Is the Latest Female Celebrity to Face the Heartbreaking Reality of Cyberbullying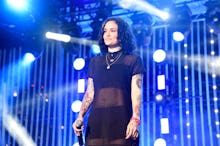 After hours of relentless cyberbullying stoked by rumors that she'd cheated on her NBA star boyfriend Kyrie Irving, 20-year-old R&B singer Kehlani posted a devastating photo on Instagram early Tuesday morning suggesting that she'd attempted to end her life. 
In the photo, which appears to be in a hospital, an IV is attached to the singer's arm. Kehlani included the caption, "Today I wanted to leave this earth. Being completely selfish for once. Never thought I'd get to such a low point. But don't believe the blogs you read. No one was cheated on and I'm not a bad person. Everyone is hurt and everyone is in a place of misunderstanding. But as of today, I had no single wish to see tomorrow. But God saved me for a reason, and for that I must be grateful. Cuz I'm not in heaven right now for a reason. On that note, bye Instagram."
Read more: Kehlani Hospitalized in Apparent Suicide Attempt After Cheating Rumors With PartyNextDoor
Many fans, and people who weren't even familiar with Kehlani's music, but were touched by her story nonetheless, tweeted messages of support:
The details of what Kehlani may or may not have done leading up to Monday's incident absolutely do not matter. What does matter is that her name was trending on Twitter Monday afternoon, with countless people hiding beneath a cloak of anonymity to lob insults her way. The deluge went on for hours, and is still going. 
It's cyberbullying on a grand scale.
This is the internet's worst self, the self that acts as a platform for people to mob up against one person. One study of more than 450 middle schoolers between the ages of 11 and 15 found that about 34% reported being cyberbullied at some point in their lifetimes. 
But it's not just the young who experience it. Racism and gender-based discrimination seep into everyday online interactions. Remember Gamergate, the 2014 saga in which guy gamers lobbed death and sexual assault threats at women who dared to speak up against sexism in the video game world? Women are disproportionately harassed online, according to a study from Working to Halt Online Abuse; and 70% of people who reported serious online harassment between 2000 and 2013 were women, former Mic staff writer Julie Zeilinger reported in 2015. Other famous women who've been targeted by online bullies include Caroline Flack, Adele (and her baby boy!), Lorde and Ellen Page.
The problem has gotten so bad that President Barack Obama has even spoken publicly about it. "One thing I've been thinking about this past week is the unique challenges women face in the virtual world," the president said at a Women's History Month reception at the White House on March 16, according to the Huffington Post. "Last Friday, I was at South by Southwest, where the epidemic of online harassment was a topic of discussion. We know that women gamers face harassment and stalking and threats of violence from other players. When they speak out about their experiences, they're attacked on Twitter and other social media outlets, even threatened in their homes."
The president continued: 
What's brought these issues to light is that there are a lot of women out there, especially young women, who are speaking out bravely about their experiences, even when they know they'll be attacked for it — from feminist bloggers who refuse to be silenced, to women sports reporters who are opening up about the extreme safety precautions they need to take when traveling for work. Every day, women of all ages and all backgrounds and walks of life are speaking out. And by telling their stories, by you telling your stories, women are lifting others out of the shadows and raising our collective consciousness about a problem that affects all of us.
There have been several efforts to get social media companies to address the harassment that happens on their platforms, including this one from Women, Action & the Media (Full disclosure: I'm on the board of WAM!). Twitter has introduced some steps to make it easier to report online harassment, and Facebook has publicly vowed to monitor misogynist content more closely. 
For now, maybe Kehlani is our heartbreaking reminder of how far internet bullying can go, and how needless that type of trolling ultimately is. 
Editor's Note: For information about suicide prevention or to speak with someone confidentially, contact the National Suicide Prevention Lifeline at 1 (800) 273-8255 or the Crisis Text Line at 741-741. Both provide free, anonymous support 24 hours a day, seven days a week.