Hillary Clinton Won't Apologize for the '94 Crime Bill, But This Black Politician Just Did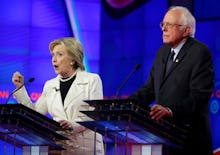 Hillary Clinton stopped short of apologizing for the 1994 Violent Crime Control and Law Enforcement Act during Thursday night's Democratic debate, saying only that she regretted the "unintended consequences" of the law her husband helped push through Congress. 
"I'm sorry for the consequences that were unintended and that have had a very unfortunate impact on people's lives," Clinton said.
Just six years after the law passed, the number of African-Americans imprisoned for drug offenses was 26 times the level it was in 1983, leaving criminal justice stalwart Bryan Stevenson to lament recently that of all the presidents to share blame for driving up the prison population, "President Clinton's tenure was the worst," according to the The Nation.
The law enticed states with federal funds if they made inmates serve the majority of their sentences rather than paroling them. It also helped hire more than 100,000 new police officers by paying for part of their salaries in certain cities, according to ABC News.
One black Illinois legislator who voted for the bill was far less equivocal than Clinton. Rep. Bobby Rush, a Democrat, told MSNBC's Tamron Hall he regretted voting for the bill after witnessing its disastrous impact on the black community first-hand.
"I am ashamed of my vote," Rush said. "I sincerely apologize to my God. I apologize to my community, to my family."
"That was the worst vote, as I look back over the years, that I've taken since I've been in Congress," he added.
Bill Clinton's signature criminal justice initiative, which Hillary Clinton supported as first lady, has taken center stage in the current Democratic race for the White House. In a stinging critique for the Nation, Michelle Alexander, author of The New Jim Crow: Mass Incarceration in the Age of Colorblindness, wrote that Hillary Clinton was no bystander in her husband's administration.
"[Hillary Clinton] not only campaigned for Bill; she also wielded power and significant influence once he was elected, lobbying for legislation and other measures," she wrote. "In her support for the 1994 crime bill ... she used racially coded rhetoric to cast black children as animals."
Bernie Sanders has also criticized Hillary Clinton for her support of the bill — even though Sanders himself begrudgingly voted for it. 
In response to the criticism, Hillary Clinton has said government must address systemic racism, — and that white people must recognize it as a problem. "I want white people to recognize that there is systemic racism," she said at Thursday's debate.
Bill Clinton also earned even more ire from black activists when he chided two of them at a campaign event for his wife in Philadelphia, proving to many the Clintons as a whole weren't truly sorry.
At the event, he doubled down on the thinking that went into the crime bill. "This is what's the matter," Bill Clinton said. "I don't know how you would characterize the gang leaders who got 13-year-old kids hopped up on crack and sent 'em out onto the street to murder other African-American children. Maybe you thought they were good citizens. She didn't."
Some supporters of the crime bill have defended the law by pointing to its black supporters. It's true that some African-Americans, including politicians like Rush and others, supported the law at the time. But as the New York Times stated in an op-ed on Wednesday, "Calls for tough sentencing and police protection were paired with calls for full employment, quality education and drug treatment and criticism of police brutality." Those are the same demands that today's young black activists are making today. 
It's one thing to acknowledge that systemic racism exists, as Clinton did. It's entirely different to do what Rush did, which is to admit a policy you supported fueled racism and then vow to make a change.