Reebok Created a Shoe Celebrating Ellen Ripley But Forgot One Thing: Women's Size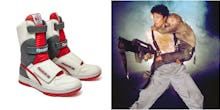 If you're a woman hoping to honor one of the most iconic heroines in film history, you'd better have some large feet. 
Because, apparently, Reebok's new Alien-inspired sneakers (which are now sold-out) were only produced in men's sizes. 
In honor of April 26, dubbed Alien Day, the brand, following in the footsteps of Nike's Back to the Future-inspired Power Laces, released a limited-edition version of the shoes that Sigourney Weaver's Ellen Ripley wore in the 1986 sequel to Alien to fight off monstrous xenomorphs. 
Remember those clunkers?
According to i09, 426 pairs of Alien Stompers were released in men's sizes 8-12. A representative told them this was due to "retail demand." Huh?!
Another representative later clarified, stating: "The Alien Stomper was mis-categorized on our US website as a men's shoe. While size availability varied by market, the Alien Stomper is a unisex style and was produced in sizes (US Men's) 3.5–12, which is a typical size range for a unisex model." 
There is no evidence of the website selling smaller sizes, and many fans have since taken to Twitter to voice their disappointment with the release:
What's ironic, as many of the tweets point out, is that Alien is often praised for being one of the first films to challenge gender roles by casting a woman in a strong, heroic role. Yet Ripley herself, and the many women who have grown up idolizing her, likely cannot fit into a pair of Alien Stompers. 
Back in November 2015, Under Armour found itself under similar criticism when they released a Star Wars collection with only men's and boys' sizes. 
Read more: 7 Best Alien Movies That Will Either Make You Love Aliens, or Absolutely Fear Them
Reebok took what was a huge step forward for women in film and walked two steps back by allowing only men to purchase the shoes — then offered a half-baked excuse.