This Inclusive Apparel Company Is Designing "Nude" Leotards for Dancers of All Colors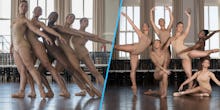 There's a longstanding issue plaguing the dance industry since its development in the late 17th century, and it has everything to do with diversity — or the lack thereof.
"There were many people who seemed to not want to see black ballerinas, who thought that our very presence made ballet less authentic, less romantic, less true," Misty Copeland wrote in her memoir, Life in Motion: An Unlikely Ballerina. 
A ballerina's uniform often consists of skin-colored leotards and pointe shoes. Dancers of color in this predominantly white industry have had to resort to dyeing their costumes and shoes because the only options available were peach and ivory hues, aka the shades that have come to represent the "color" nude.
Whitney Bracey, a designer who originally sold swimwear, decided to tackle this issue head-on and created a line of apparel for dancers of color called "Mahogany Blues."
"We are here to remind dancers of color of their value in an industry that has been color blind for too long," the brand's website reads above the hashtag #NOMOREDYEING. 
Read more: Two Harvard Students Are Revolutionizing the Way You Shop for Nude Clothing
Launched in March 2015, the brand currently offers three different leotards in four shades of nude: Amina, Mulan, Jasmine and Tiana. According to BuzzFeed, Bracey plans to release two more colors by the end of next year. 
Beyond leotards, it can also be difficult for dancers of color have to find ballet shoes matching their skin tone. Last summer, ballet dancer Eric Underwood addressed this problem by posting a picture on Instagram and asking dance apparel companies to produce a more diverse offering of flesh-colored shoes.
"I have to 'pancake' my shoes with makeup before I can go on stage," Underwood told the BBC. "It's a messy process that can take as long as half an hour at a time, and I need to repeat it regularly because the color rubs off during performances."
In response to Underwood's Instagram post, dance supply company Bloch decided to work with Underwood to create shoes in a multitude of skin shades. 
Bracey is also helping to circumvent this prevalent issue by sponsoring a dance company or studio each year, gifting each of their dancers with some Kinetic Essentials shoe polish (which allows dancers to dye their shoes to match their unique skin tone) and one of her leotards.
Both Mahogany Blues and Bloch are addressing an issue that has long plagued the dance industry and the growing group of dancers of color — like Copeland — that simply want to be taken seriously in this field. 
"My longterm goal is to see our brand taking care of any and every kind of nude," Bracey told BuzzFeed. "It's so important for little girls and boys to see themselves represented in all career fields."