'Orange Is The New Black' Star Dascha Polanco Claps Back at Body Shaming TV Hosts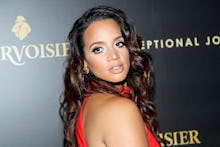 Dascha Polanco experienced one of every fashionista's biggest fears on Tuesday evening, when she showed up to People En Espanol's 50 Most Beautiful 2016 gala in the exact same dress as Venezuelan TV host Daniela Di Giacomo. 
But the real nightmare didn't start until days later when Univision hosts recapped the incident and pitted the two against each other asking, "Who wore it better?"
"It's really tasteless to come across today that a host of @univision @elgordoylaflaca have used poor choices of words that have become offensive," Polanco captioned an Instagram photo on Wednesday. "They have created an environment in which it has ignited bullying across their platforms & has instigated against my weight due to the same dress being worn by one of their hosts and I last night."
Polanco specifically called out Univision show El Gordo y la Flaca which translates to "The Fat and the Skinny." (Yes, really.)
"Interesting that they chose to glorify something so superficial like this, and not focus on the issues Latinos face in Hollywood," she wrote, adding, "#IEatBullies." 
Polanco joins a growing chorus of celebrities speaking out about how the media polices women's bodies. In March, actress Melissa McCarthy told Refinery29 that pitting women against one another in magazines this way is damaging, and she pointed to a double standard.
Read more: Dascha Polanco Has a Message for Clothing Brands That Only Make Small Sizes
"You don't do that with guys," said McCarthy. "You don't see two guys next to each other and somebody going, 'Who's got the better knees? Who's got old knees?' I want to get rid of constantly categorizing. Lists give somebody a way to shove and tear down women."
Thankfully, stars like Polanco and McCarthy — along with women like Amy Poehler and Reese Witherspoon with the #AskHerMore campaign — are leading a charge against appearance based topics. Because, as Polanco pointed out, there is an extensive list of serious issues that more important than the fabric one dresses themselves in. 
"Comparison is the new form of flattering & approval within the press/social media. No approval needed," Polanco wrote.