Black Woman Outraged by 1994 Crime Bill Shouts, "Fuck You!" At Bill Clinton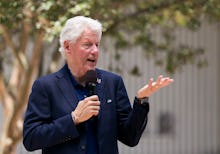 Bill Clinton is campaigning hard for his wife and Democratic presidential frontrunner Hillary Clinton ahead of Tuesday's primary election in California. But he's still being haunted by his decision to sign the 1994 Crime Bill — which some critics claim put hundreds of thousands of black people behind bars.
Over the weekend, Clinton made a campaign stop in Watts, a predominantly Latino and black neighborhood in South Los Angeles. Watts — home to an infamous race riot in 1965 — became synonymous with crime in the mid-to-late 20th century. 
Clinton was taking a photo with two attendees, both black men, when an unidentified woman shouted from a short distance away: 
"Hey Clinton, fuck you! Our people are still in jail from your crime bill!"
Here's short video of the interaction:
The crime bill, which was publicly touted by then-first lady Hillary Clinton, has haunted the Clintons throughout this campaign. Hillary Clinton has since tried walking back on her initial support, even apologizing for it during a debate earlier this spring. 
"I'm sorry for the consequences that were unintended and that have had a very unfortunate impact on people's lives," she said in April.
But the bill and its perceived impact are still open wounds for many potential voters. In February, a black activist named Ashley Williams confronted Hillary Clinton at a private campaign event in South Carolina, setting off a viral hashtag, #WhichHillary, criticizing Clinton's inconsistent positioning on the issue.
In April, Bill Clinton chided crime bill critics in Philadelphia — whom he mistakenly thought were Black Lives Matter activists — but has also admitted in the past that the bill made the problem of mass incarceration worse. 
"In that bill, there were longer sentences and most of these people are in prison under state law, but the federal law set a trend," Clinton said in 2015. "And that was overdone, we were wrong about that. The good news is we had the biggest drop in crime in history ... The bad news is we had a lot of people who were essentially locked up who were minor actors for way too long."
The tense interaction in Watts, South Carolina and elsewhere suggest that anger over the bill's impact is still palpable for many Americans.