This Woman Penned a Powerful Letter to H&M Calling Out Its "Unrealistically Small" Sizing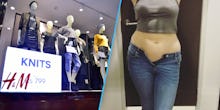 Two things that you probably hate shopping for most: bathing suits and jeans. Facebook user Ruth Clemens was at H&M on a hunt for the latter, but was discouraged when she wasn't able to zip up the store's biggest size. That size being a mere 16. 
"I'm normally a size 14 on my hips (occasionally 16 if buying trousers) so I thought I'd try them on," Clemens explained in an open letter to the clothing store on Facebook that has so far been shared over 10,000 times. "It did not go well." 
In an interview, Clemens explained that in the United Kingdom, H&M carries jeans up to a U.K. size 16 (which is about a United States size 10-12.) Everything above a 16 is considered part of its plus-size range, which has very limited quantities in stores. "In most clothes — especially the fashionable/revealing clothes — they only go up to a 16," she said. 
She ended the open letter on Facebook saying that, although it shouldn't matter, she is not overweight and her body is pretty average shape-wise. 
"It's already difficult enough for me to find clothes that fit well because of my height, why are you making jeans that are unrealistically small?" she asks in the post. "Am I too fat for your everyday range? Should I just accept that accessible and affordable high street and on-trend fashion isn't for people like me?" 
Clemens received thousands of comments on her post, with women offering their own complaints and experiences with the store's sizing.
"So glad it's not just me. I don't ever buy bottoms from H&M as they are TINY sizes!!!!! It's quite disheartening to fail fitting into a pair of trousers two sizes above what you normally wear," one person wrote. "I've recently lost a bit of weight and very proud. However, a recent shopping trip to H&M made me feel sh*t when a size 12 wouldn't come close to fitting and I had to buy 14," said another. 
H&M responded to the post writing, "Hi Ruth, thank you so much for your feedback. We are sorry to hear about your experience in store recently. We always want our customers to have an enjoyable time when shopping in store and to leave feeling confident in themselves. At H&M we make clothing for all our stores around the world, so the sizing can vary depending on the style, cut and fabric. We value all feedback and will take on board the points you and other customers have raised." 
Many people of late have taken to Facebook to voice the issues they've faced with different clothing stores' sizing. Last month, Facebook user Missy Rogers showed how a current size 10 pair of shorts has the exact same waistline and width as a size 4 pair she bought two years back. 
And it's not just women pointing this out. In May, Facebook user Benjamin Ashton Cooper's post went viral after he was "pissed" that his girlfriend's XL large shirt fit his relatively petite frame. "I am not an extra large man, and, more importantly, a woman my size is NOT an extra large woman," he wrote. A few weeks later, Michael Jammer did the same thing and asked why women's clothing was so small, writing, "Do I look extra large to any of you? NO, either is she, so why do these companies continue to shame women and their weight?" 
H&M sells a limited amount of plus-size clothing in its U.K. stores, but that does not make up for the fact that its version of "plus" is a U.S. size 10. (The average clothing size for women in the U.S. is said to be between size 12 and 14.) 
Thankfully, there are people — and body-positive brands like ModCloth and lingerie company Neon Moon — who have dropped numbers or merged bigger sizes with smaller ones and spoken out to combat these size issues.  
As for H&M, like Clemens says, "Sort it out, would you?" 
Read more: