Zendaya Embraces Gender-Neutral Fashion, Says Her High Heel Line Is "Not Just for Women"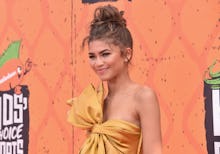 Though high heels are not inherently gendered, they're more than often produced and marketed toward women. Clapback queen Zendaya has turned her back on these industry standards with a shoe collection created for everyone — men included. 
"It's not just for women," the 19-year-old said to Elle about the line, Daya by Zendaya. "Boys will be rocking my heels too, you know what I'm saying?"
The shoes, which were designed with the help of her stylist and future America's Next Top Model judge Law Roach, were inspired by the people in Zendaya's life, like her older sister and nieces. "I want them to have shoes that feel luxurious and special and well-crafted and thought about," Zendaya said. "But also, they should have shoes that won't break the bank." 
The 12 styles for sale at Nordstrom retail from $69.95 for a pair of flats to $109.95 for booties.  
"Because the price point and the quality are very rare, I don't want people thinking, 'I got the look for less.' I want them thinking, 'I got the look!'" Zendaya told Elle.
Zendaya isn't the only famous face advocating for gender-neutral fashion. Recently rapper Young Thug, who has previously been open about wearing clothing traditionally designed for women, appeared in a Calvin Klein campaign video stating, "You could be a gangster with a dress or you could be a gangster with baggy pants. I feel like there's no such thing as gender." 
In a recent interview with Nylon, Jaden Smith explained why he was continuing to try to normalize men in skirts, saying, "I'm going to take most of the blows for my fellow MSFTS. So, you know, in five years when a kid goes to school wearing a skirt, he won't get beat up and kids won't get mad at him. It just doesn't matter." 
As Smith said, someday men will be able to wear any piece of clothing they choose — and he, Young Thug and Zendaya will likely be at the forefront of this movement. 
But, for now, it all starts with a brand new pair of not-so-expensive pumps created for all. 
Read more: