Meryl Streep's American Flag Dress at the Democratic Convention Stole the Goddamn Show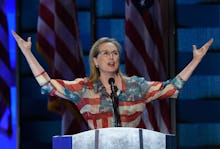 Once you see the dress Meryl Streep wore Tuesday night at the Democratic National Convention, you'll likely regret not staying up past Bill Clinton's speech to see it live in all of its red, white and blue glory. 
Streep took the stage a little before 11 p.m. to proclaim her support for Hillary Clinton and compare her to other "pathbreakers" throughout history like Harriet Tubman and Sandra Day O'Connor.  
Streep was just one of the A-list celebrities, including Lena Dunham, America Ferrara, Alicia Keys and Demi Lovato to name a few, who appeared on stage during the first two days of the DNC. But unlike her fellow famous faces, people were specifically enamored with Streep's outfit in addition to what she was saying. 
After all, it did seem like she simply draped an American flag around her body. 
This is not the first time that Streep has worn the Catherine Malandrino-designed dress. She first was spotted in it while promoting the film Doubt in 2009. Prior to this, Halle Berry had worn it, and since, everyone from Katy Perry to Wendy Williams has also gotten their hands on the patriotic dress. 
As Buzzfeed's Matt Stopera pointed out, Kelly Ripa all wore the dress on Live with Regis and Kelly in 2001.
Unfortunately, it seems that the dress, which retails for $425, is sold out on most websites. Maybe it will be restocked by the November election, or, at least by next Fourth of July.
Read more: