UC Berkeley just introduced gender-neutral bathrooms in 40 campus buildings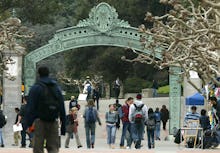 Finding a gender-neutral bathroom on the University of California, Berkeley's sprawling 1,200-mile campus just got a lot easier.
University officials announced that a total of 40 campus buildings now house gender-neutral bathrooms, and that a massive campus renovation project will add even more. Students and visitors can find the bathrooms using this helpful map that the school rolled out alongside the announcement.
"The campus is committed to providing comfortable and accessible restrooms for everyone's use," Emily Marthinsen, an assistant vice chancellor and campus architect, told a CBS San Francisco affiliate. 
The announcement comes on the heels of news on Friday that the Supreme Court would hear the case of 17-year-old Gavin Grimm, a transgender student who's fighting to use his school's boys' bathroom. That case builds on a tide of fights in states across the country where transgender communities are fighting to use bathrooms that match their gender identities.
North Carolina stood out from this pack when its governor passed HB2, a bill that, among other things, mandated that people use the bathroom that matches their gender assigned at birth. 
At UC Berkeley, though, the process of including gender-neutral bathrooms in all campus facilities is just the beginning. 
"UC Berkeley is engaged in an ongoing process to provide restroom facilities that serve the needs of all members of the campus," its website says, "helping to create an overall inclusive campus environment for all members of our community."