'Fire Emblem Heroes' Reroll Guide: How to summon the characters you want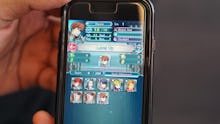 Fire Emblem Heroes is out for iOS and Android and you can nab it right now via the App Store and Google Play Store. Once you begin playing you'll be able to summon your first hero not long after starting up the game, but you may be wondering how to reroll if you don't get the character you like.
Don't worry: We're here to help with a guide to rerolling in Fire Emblem Heroes.
Fire Emblem Heroes reroll guide: How to try again for a new character 
Once you get past the game's tutorials and into the main menu you will be able to use orbs to summon a hero. That is what the rerolling process refers to. 
Each Fire Emblem Heroes character has a special rarity from 1 star to 5 stars. It's possible that when you start the game you'll get a character you may not want or one that has a low rarity index. Alternatively, you may have a favorite character you want to grab instead, regardless of their in-game stats.
The current drop rates as explained in the app and via Mediacraft are the following:
• 5 stars focus at 3%
• 5 stars at 3%
• 4 stars at 36%
• 3 stars at 58%
So if you don't get the character you want, it's time for you to reroll, a process that is slightly different on iOS and Android. Here's how to do it, according to Mediacraft.
Fire Emblem Heroes reroll guide for iOS
First, you'll want to delete the game from your device if you haven't already done so. When you reinstall it, skip past the step where you link your Nintendo account. Play through the game past its initial tutorial level with the character Anna, and receive your free pack of orbs at the beginning. Then head to the Home Castle area and obtain two more orbs from the Owl inside. 
Next, finish the first three Main Story quests to receive three additional orbs. Then you can return to the Summon page as you did originally and summon five units at once. If you got the character you wanted, feel free to link your Nintendo account. If not, you should uninstall the app and then reinstall it to go through all of these steps again until you're satisfied with your very first roll for a character. 
Fire Emblem Heroes reroll guide for Android
Rerolling on Android is slightly easier because you don't have to delete the app. Instead, just open the Settings menu, select Apps, then Fire Emblem Heroes and then Clear Data. This will give you a fresh start and another chance to try summoning the best characters.
The rest of the process for Android is exactly the same as the iOS version. Just follow the steps outlined above and repeat until you get the heroes you want. By the time you've gone through these steps a few times you should have the characters you're looking for. Good luck!
More Fire Emblem Heroes tips, tricks and guides
If you're still struggling to figure out Fire Emblem Heroes, we're here to help. Check out our handy guide on how to get started if you're new to the series, along with explainers on using Hero Feathers, changing nicknames in the game, boosting your characters with Unlock Potential, upgrading character star ratings and adding friends in Fire Emblem Heroes.