How to talk in 'For Honor': Guide for using chat to talk to other players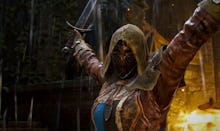 For Honor is a game in which you might want to chat with other players, be it to talk about multiplayer matches and strategies or simply to shoot the breeze. Now that For Honor is out in the wild and no longer in open beta, it's time to get all that together.
But how do you make sure you've got voice-chat enabled so you can talk to your heart's content? The option is available behind a couple of menu screens, but it's very simple to find. Here's how.
How to talk in For Honor: Enable voice-chat mode
To turn on voice chat and make sure you can communicate with other players, first go to the menu in whatever version of For Honor you're playing. Choose "Options," then choose the "Audio" option from the sub-menu. Find the menu option that says "Voice Chat Mode" — it may be set to "disabled." Change this selection to say "open." Now you should be able to chat with other players.
From this menu, you can also change a variety of other audio settings. Take a few seconds to scan the page and see if there's anything else you want to tweak.
More For Honor tips, tricks and guides
Looking for more help with the For Honor open beta? Check out Mic's guides for how to parry, how to execute, how to throw, how to revive and what to expect from the game's single-player campaign.