Why was no one fired from United Airlines over the brutal treatment of Dr. Dao?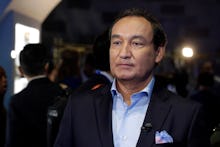 United Airlines chief executive Oscar Muñoz has taken "full responsibility" for the company's treatment of Dr. David Dao, who was dragged off a United flight on April 9. Yet Muñoz on Tuesday told reporters no one would be fired for the incident. 
"There was never a consideration for firing an employee or anyone around it," Muñoz told reporters during a conference call, according to ABC News. "I'm sure there was a lot of conjecture about me personally... The buck stops here," he added.
Dao, 69, was literally dragged off a United plane by Chicago police officers after refusing to give up his seat when flight attendants announced the company had overbooked the flight. NPR reported Dao's attorneys said he suffered a broken nose, a concussion and lost two teeth in the process, which was recorded in a now-infamous viral video.
United Airlines' board of directors is backing the CEO's decision not to fire anyone for what happened, according to CNN Money.
How can the company say what happened was their fault yet not hold anyone accountable?
 "It was a system failure across various areas," Muñoz told reporters.
United's profits dropped 69% in the aftermath of the Dao scandal. NBC News reported Asian Americans have protested for what happened to the Vietnamese Kentucky man, joining lawmakers like U.S. Sen. Mazie Hirono (D-Hawaii) in calling for an investigation.
Dao's daughter, Crystal Pepper, told reporters she was "horrified" and "shocked" when she saw what happened to her dad, People reported.
"What happened to my dad should never have happened to any human being, regardless of the circumstances," she said, according to People.
Muñoz initially blamed Dao in the incident for allegedly being "disruptive and belligerent" in his refusal to leave the flight.
New video footage showing the lead-up to the incident, however, seems to refute the idea that Dao was acting out of hand.