'Diablo 3' Necromancer Q&A: Everything you should know about the soon to be released class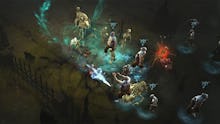 The Diablo 3 Necromancer beta has been available to fans for a short time, and Blizzard is eager to answer all the questions that have arisen. That's why the team at Blizzard, namely Senior Game Designer Travis Day and Lead VFX Artist Julian Love, held a special Necromancer Q&A on May 3 to field some of these questions in a live stream. 
The broadcast has obviously concluded by now, but DiabloFans has a recap of the stream with plenty of pertinent information related to the Necromancer's debut. We've got some of the most important points here from the Diablo 3 Necromancer Q&A to tide you over until the official release when the class is available outside of beta play. 
Diablo 3 Necromancer Q&A: Important points 
During the Necromancer Q&A, Blizzard fielded several different questions about the upcoming final release of the hotly-anticipated class. While it's currently in beta, there are still additional questions people have about the Necromancer that they wanted to ensure had answers. 
Some pertinent info from the Q&A includes the following:
- Two character slots, two stash tabs, a pennant, banner, pet, wings, and a portrait frame will be included with the Necromancer pack.
This should be enough juicy info to tide fans over until the Necromancer finally rises in Diablo 3 proper. Happy gaming!
More Diablo 3 news and rumors
Mic has all the latest Diablo news, including updates on when we might be able to expect the Necromancer's appearance, Diablo 3's recent anniversary patch and PS4 patch notes.