'Prey' Workstation Passwords: How and where to find all employee passwords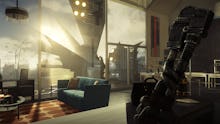 Prey has several areas that require codes to get by. For instance, to unlock a certain safe you'll need to ascertain what its passcode is. It's the same for workstations and security stations found throughout Talos I. 
Since they're randomly generated, however, you'll just have to search in the general area of where the password may be, typically on a piece of paper or near the employee's workstation. 
We've got the info you need to find the passwords, thanks to Prima Games and some personal testing. Just going to throw this out there: These aren't the most secure places to just store passwords, guys. 
Prey Workstation Passwords: Neuromod Division
Marco Simmons
Find Simmons' password in the workstation in the simulation debriefing room. There should be a note around his workstation with the password on it. 
Security Station 
Look for the body of Divy Naaz. There should be a note here with another password for the security booth. The additional password here will be for the security station. 
Prey Workstation Passwords: Talos I Lobby
Jason Chang
Go to the executive offices to find Jason Chang's workstation. You should find a note near the desk with Chang's password written on it. 
Prey Workstation Passwords: Hardware labs
Small Scale Testing
Head to the hardware labs and find the small scale testing workstation. There's a clipboard you should see on the floor not too far away from it. Read the note on the clipboard for the password.
Prey Workstation Passwords: Arboretum
Julien Howard
When in the arboretum, look for the body of Iris Stein. If you search near the body you should find a note there with Julien Howard's password written on it. 
Prey Workstation Passwords: Crew quarters
Abigail Foy
Check the crew quarters on Talos I for Abigail Foy's area. Search under her desk for a note that includes the password to her workstation. 
Prey Workstation Passwords: Deep storage
Ivy Song
While in the corporate information technology area, check out Zachary West's workstation. He has a note beside it with Ivy Song's password. In a true lack of concern for security, the keycode for the stairs is on the same note. 
Prey Workstation Passwords: Cargo bay
Gus Magill
Head to the shipping and receiving area. Look at Gus Magill's desk there and check under the phone near the desk. You should find a note with his workstation password there. 
Prey Workstation Passwords: Life support
Price Broadway
Head to the water treatment facility. You'll find Price Broadway's computer here. Check the crate you see by his workstation to find his computer password. 
More gaming news, updates, tips and tricks
Check out the latest from Mic, including our deep dive into how female Overwatch players are dealing with online harassment, an article about a fan movement advocating for more same-sex romance options in Mass Effect, a personal essay about JonTron written by a fellow Iranian-American and an article looking at cultural diversity in Overwatch.