Louisiana House passes bill banning removal of Confederate statues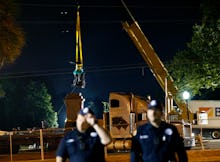 Supporters of preserving Confederate monuments won a notable victory Monday night in Louisiana.
State lawmakers there passed a bill seeking to ban further removal of contentious Confederate symbols.
State House black caucus members walked out of the House chamber in protest after their peers voted 65-31 in favor of House Bill 71, which would ban the removal of any military memorial plaque, statue or other monument from public property throughout the state without an approving vote from local residents, according to multiple sources.
"Members, we have 18 bills left, so don't go far," a legislative leader is heard saying in video of the vote as the black legislators left the chamber one by one.
The bill's passage comes less than a week after a statue of former Confederate States of America President Jefferson Davis was dismantled in New Orleans, the second of four Confederate monuments set to be removed. 
"It's almost embarrassing to be standing here talking about something like this in 2017," state Rep. Ted James of Baton Rouge told reporters Monday night. "It's the worst thing I've seen done in this building."
State Rep. Katrina Jackson echoed James' comments.
"The monuments you seek to protect are deeply offensive to African-Americans and to Christians," she said Monday, according to the Advocate. "Do they have any monuments to Hitler in Germany?"
Nazi symbols of any kind are, in fact, illegal to display in Germany.
The bill's sponsor, Republican state Rep. Thomas Carmody, told USA Today he drafted the bill after "concerned citizens" asked him to "put the people's voice into the process" of moving the Confederate monuments.
In 2015, the New Orleans City Council voted to remove four of the city's Confederate symbols, including statues of generals Robert E. Lee and P.G.T. Beauregard, the aforementioned Davis and a French Quarter obelisk honoring the Battle of Liberty Place, according to the New York Times.
"With today's vote, hopefully we move forward to assure that the people have a voice in that process and can decide what they will and will not allow to remain in their public spaces," Carmody said Monday.
Now the measure goes to the state Senate for consideration, but Carmody told reporters even if it passes and is ultimately signed into law, it likely won't stop the ongoing removal of the four Confederate monuments in New Orleans, the Advocate reported.
White nationalists are fighting back
Rebel flag-wielding pro-monument supporters and "Southern nationalists" from the League of the South clashed with anti-monument protesters on May 7 during dueling New Orleans demonstrations celebrating and denouncing the removal of Lee's statue from Lee Circle.
On Saturday night, white nationalists in Charlottesville, Virginia, led by alt-right leader Richard Spencer held a tiki torch-lit rally at the foot of a Confederate monument to protest the town's recent decision to remove statues of Lee and Stonewall Jackson.
Pro statue demonstrators told local NBC reporters they were protesting to "protect" their "white heritage."
Video of the protest captured demonstrators shouting "Russia is our friend," and "You will not replace us."
Correction: May 16, 2017