Yale dean June Chu placed on leave after calling people 'white trash' on Yelp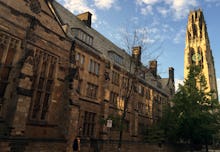 Yale dean June Chu has been placed on leave after the school's student paper uncovered a trove of her insulting and discriminatory Yelp reviews.
Chu is dean of the university's Pierson College, and she has a background in advocating on behalf of student diversity. But critics say that a series of Yelp reviews show that she wasn't exactly living up to her own standards.
"If you are white trash, this is the perfect night out for you!" Chu wrote about a Japanese restaurant, adding that the spot was perfect for "those low class folks who believe this is a real night out."
In one 2015 review, she called a movie theater's employees "barely educated morons trying to manage snack orders for the obese and also try to add $7 plus $7."
Chu has since deleted the account and issued an apology, saying that she hopes to earn back the trust of students who were offended by her posts. 
"I have learned a lot this semester about the power of words and about the accountability that we owe one another," Chu wrote, according to the Washington Post. "My remarks were wrong. There are no two ways about it. Not only were they insensitive in matters related to class and race; they demean the values to which I hold myself and which I offer as a member of this community."
Nonetheless, Chu's remarks have become yet another battle in the roiling war of words about so-called "political correctness" on college campuses. In 2016, Yale administrator Nicholas Christakis resigned after controversy roared over an email sent to students by his wife, Erika, advocating for students to wear whatever Halloween costumes they chose — even if they were deemed racially insensitive by some. 
"Is there no room anymore for a child or young person to be a little bit obnoxious ... a little bit inappropriate or provocative or, yes, offensive?" she wrote. Christakis defended his wife's position, and entire ordeal became a fight over free speech on college campuses.
Chu has not yet been asked to resign, but she will not take part in the school's commencement ceremonies on May 22, according to the Post.