'Mario + Rabbids Kingdom Battle': Everything to know about the leaked Nintendo Switch game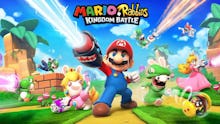 Ubisoft is reportedly working on a Nintendo Switch game that brings together two very unlikely groups: Your favorite Mario characters and those zany Rabbids from Ubisoft. According to Nintendo World Report, Mario + Rabbids: Kingdom Battle is set to launch as early as this August. 
Mario + Rabbids: Kingdom Battle: Rumors and confirmation
Previously, this game came up as a result of some very questionable sources, including a "leak" as part of Nintendo's Switch announcements that didn't come to fruition just yet (read: a guess). Now Ubisoft has provided outlets like Comic Book actual key art, lending credence to the previous rumblings. 
Mario + Rabbids: Kingdom Battle is apparently a role-playing game with turn-based combat. The game is due out later this summer, specifically August. According to leaked images from what looks like a presentation meant for E3 2017, an estimated 35% of the game is comprised of exploration with 65% reserved for combat. 
On the exploration side, there will be four "twisted" Mario worlds sprinkled with Mario-related Easter eggs throughout the game. Combat is meant to be weapon-based with unique controls and special weapons for each character to use while facing their enemies. Multiplayer and cooperative play are both touted as features as well.  
The presentation slides are rife with misspellings and oddly phrased lines, as well as phrases uncharacteristic of the Mario universe like "kickass" and "badass," which are a little risque for Nintendo's usually clean image. "Turtle shelves" are referenced instead of "turtle shells." All the telltale signs of a leak created by someone looking for attention are here, and despite the fact that Ubisoft reportedly confirmed the game's existence, it seems possible that some of these leaked slides might still be fake.
The game is being published by Ubisoft and developed by Ubisoft Paris and Milan, who most recently worked on Rabbids Land for Wii U. It's reportedly using Ubisoft's Snowdrop engine as well. It looks like it could be a fun twist on the Mario universe, even though its announcement seems to have been spoiled ahead of a planned "surprise" announcement for E3 in June.
More gaming news and updates
Check out the latest from Mic, including our list of video games that made fun of their players, a personal essay about dealing with anxiety through Breath of the Wild, a look at the racist and sexist experiences in esports and a plea for better character customization options for black characters.