Advocates defend artistic protests following Alexandria shooting and 'Julius Caesar' debate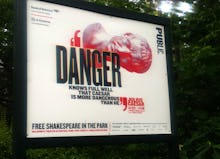 President Donald Trump certainly isn't the first sitting president to meet his maker on stage or on film, but artistic depictions of his assassination are raising more eyebrows in the aftermath of Wednesday's Alexandria, Virginia, shooting.
New York's Public Theater on Thursday doubled down on its refusal to cancel its controversial rendition of William Shakespeare's classic Julius Caesar stage play depicting Trump as the doomed Roman leader being stabbed to death by men in suits.
The company's first run of the play took place Monday night in Central Park as part of its Shakespeare in the Park series.
Conservative advocates were already crying foul days before alleged gunman James T. Hodgkinson shot five people at a Republican lawmaker baseball practice shot five people at a Republican lawmaker baseball practice.
Since the shooting, the president's eldest son has retweeted a post insinuating mock Trump assassinations may have motivated Hodgkinson to kill Republicans.
Despite the outrage, the Public Theater says it will continue its four final shows Thursday through Sunday night portraying Trump getting killed on stage.
"Our production of Julius Caesar in no way advocates violence towards anyone," the theater wrote in an emailed statement also available on its website.
"We recognize that our interpretation of the play has provoked heated discussion," the statement continues. "Such discussion is exactly the goal of our civically-engaged theater; this discourse is the basis of a healthy democracy."
Art advocates point out that there was relatively little outrage when Guthrie Theater in Minneapolis fake-killed a then-President Barack Obama character during its 2012 Julius Caesar run.
"Even if [Hodgkinson] had seen the [Trump Julius Caesar] production," Columbia English literature professor Julie Crawford said via email. "We cannot rely on the mimetic hypothesis — the idea that art translates to life — in such a facile way."
"People do not do things because representations — art — made them," Crawford added.
Those points haven't deterred conservative talk radio pundits like Michael Savage, who also blamed progressive media personalities' calls for Trump "resistance" and comedian Kathy Griffin's mock beheading of Trump for fueling "violence by marginals."
"I don't know how much more of this the country can take," Savage said on his radio show Tuesday. "We are at a boiling point. There's going to be a civil war."
Artist and activist Alessandra Mondolfi, whose protest art was featured prominently in multiple anti-Trump protests, including the March for Science, says calls for censoring artists are misguided and shortsighted.
"Art is a way to express our anxieties. It's art therapy," she said Thursday. "It's a lot healthier to go and make a drawing than it is to go get a gun and shoot somebody."