Fyre Festival organizer Billy McFarland charged with wire fraud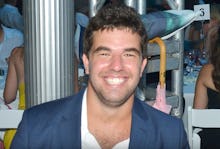 William "Billy" McFarland, organizer of the disastrous Fyre Music Festival, has been charged with wire fraud in connection with a scheme to defraud investors.
Joon Kim, acting United States attorney for the Southern District of New York, and William Sweeney Jr., assistant director in charge of the New York field office of the FBI, announced the charges Friday. In the announcement, it was revealed that McFarland was arrested and will face Judge Kevin Fox on Saturday.
"As alleged, William McFarland promised a 'life changing' music festival but in actuality delivered a disaster," Kim said in a statement. "McFarland allegedly presented fake documents to induce investors to put over a million dollars into his company and the fiasco called the Fyre Festival. Thanks to the investigative efforts of the FBI, McFarland will now have to answer for his crimes."
Sweeney added in the statement that McFarland "truly put on a show" when misrepresenting the financial status of his businesses. He added, "In the end, the very public failure of the Fyre Festival signaled that something just wasn't right, as we allege in detail today."
In emails provided to Mic by a source close to the matter, festival organizers attempted to alert McFarland to the many issues the festival was facing, including a severe lack of bathroom facilities for the thousands of attendees about to descend on the island. However, McFarland and his partners chose to continue forward with the festival despite the many frantic warnings.
McFarland is charged with one count of wire fraud, which carries a maximum sentence of 20 years in prison, according to the statement.