Xbox One Gifting: Soon you can send a game to a friend via the Xbox Store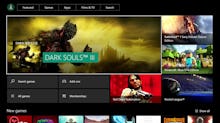 If you often find yourself staring at the games available via the Xbox One's store page wishing you could give out games as gifts to friends, there's a solution on its way. Aside from being able to go the store and pick up copies of games to give out, you'll likely soon be able to head to the digital storefront and gift copies of digital games to friends you're itching to play with. According to Xbox Vice President Mike Ybarra, this is a feature that's on its way pretty soon.
Xbox One Gifting: A feature that's on its way to the Xbox Game Store
Ybarra replied to a fan's inquiry on Twitter confirming that the ability to gift a new purchase to friends is "Not far!"
Right now, you're unable to gift games to friends on the Xbox One or even the PlayStation 4. You can do so via Valve by way of Steam Gifts, where you can purchase a copy of a game and send it to a friend or family member with a few mouse clicks. It'll be a boon for many users looking to share the wealth if Microsoft decides to make this very same feature available for users going forward.
More gaming news and updates
Check out the latest from Mic, like this essay about the sinister, subtle evils lurking in rural America that Far Cry 5 shouldn't ignore. Also, be sure to read our review of Tekken 7.