'Splatoon 2' Global Testfire Dates: When are the Splatfest demo times?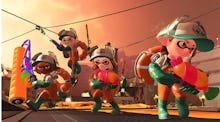 Splatoon 2 is about to make a splash on the Nintendo Switch on July 21, but you can still try it out in one last Global Testfire before its release. If you're curious about what the game offers and want to spend some time splatting others with colorful ink online, today's your lucky day. The Splatfest World Premiere Demo starts at 3 p.m. Pacific/6 p.m. Eastern time for North America, and 5 p.m. British Summer Time for the UK.
When is the Splatoon 2 Splatfest World Premiere?
You can go online via your Nintendo Switch now and download the game demo, but you can only customize your character and choose a side: cake or ice cream. Then when the game event starts at the aforementioned times, you can start duking it out in Turf War matches with players around the world. Turf War finds both sides battling for supremacy by covering their surroundings with ink. The team that has covered the most area with their ink color wins.
This Splatfest will take place for four hours instead of the previous demos' six hours during last March's Global Testfire, and you can choose from four different weapons to take home the gold. The Splat Roller, Splat Charger, Splat Dualies, and Tentatek Splattershot will be up for grabs for you to test out.
Splatoon 2 will be bubbling to the surface on July 21 for Nintendo Switch, but you should have plenty of time to help decide how you like it and if you think it's worth your money with one last hurrah.
More gaming news and updates
Check out the latest from Mic, like this essay about the sinister, subtle evils lurking in rural America that Far Cry 5 shouldn't ignore. Also, be sure to read our review of Tekken 7, an article about D.Va's influence on one Overwatch player's ideas about femininity and an analysis of gaming's racist habit of darkening villains' skin tones.