Internet searches about suicide went up after '13 Reasons Why' premiered on Netflix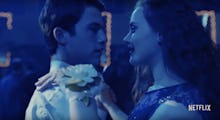 Controversy has surrounded Netflix's 13 Reasons Why since its release in March. That's mostly because the series gruesomely recounts how a high school student died by suicide. Mental health advocates criticized the show for depicting depression and suicide in a way that could trigger people to take their lives in real-life, and at least one psychiatrist said that Netflix should take the show down.
Now, a study gives more weight to their concerns. Scientists used data from Google Trends, a public archive of internet searches, to see how the series may have affected the public. They found that internet searches using the word "suicide" were about 19% higher between the show's release on March 31 and April 18, the day before news that former NFL star Aaron Hernandez died by suicide in prison. That's as many as 1.5 million more searches than the expected usual, scientists said.
Let's recap the show. It's primarily about two high school students named Clay Jensen and Hannah Baker. In the show, Baker dies by suicide and leaves behind 13 tapes, each one mentioning a person and a reason why she decided to do it. Jensen, who was in love with Baker, listens to the tapes — each one representing a roughly hour-long episode of the Netflix series. The tapes essentially blame or cite Baker's classmates, one by one, as a reason for her suicide. The show is incredibly graphic, especially when depicting Baker's suicide, which has caused some experts to voice concerns that it could be triggering.
Others, however, said they believe the show accomplishes much for suicide awareness. In an interview with Teen Vogue, Katherine Langford — the actor who plays Baker in the show — said she and other actors consulted with "psychiatrists and people with experience either as counselors or victims" to be "truthful and [try] to tell a story that we all felt was super important." According to the recent study, internet searches containing the words "suicide hotline" did go up by 12% after the show's release, while "suicide prevention" went up 23%.
On the other hand, "how to commit suicide" went up 26% and "commit suicide" went up by 18%. "How to kill yourself" saw a 9% increase as a search term.
Researchers are not very pleased.
"The World Health Organization has developed guidelines for media makers to prevent this very problem," Jon-Patrick Allem, a research scientist at the University of Southern California and part of the study, said in the study's release. "It is critical that media makers follow these guidelines. For instance, these guidelines discourage content that dwells on the suicide or suicide act. '13 Reasons Why' dedicated 13 hours to a suicide victim, even showing the suicide in gruesome detail."
Though the data does not show that more people died by suicide or attempted suicide shortly after the show's release, the results are apparently moving enough. The study's leading author, John Ayers, called on Netflix to edit the show to meet WHO's standards.
"We are calling on Netflix to remove the show and edit its content to align with World Health Organization standards before reposting," Ayers, an associate research professor at San Diego State University's Graduate School of Public Health, said in the release.
The show's official Twitter account announced a second season on May 7.
Editor's note: For information about suicide prevention or to speak with someone confidentially, contact the National Suicide Prevention Lifeline at 1 (800) 273-8255 or the Crisis Text Line at 741-741. Both provide free, anonymous support 24 hours a day, seven days a week.