Elementary school teachers can now get their students eclipse glasses for free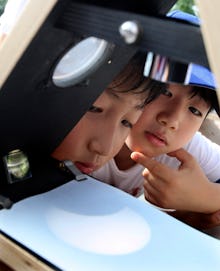 The upcoming total solar eclipse across the continental U.S. on Aug. 21 is a rare opportunity to pique children's interest in science. It could turn them into astronomers, the next generation of eclipse chasers or future NASA employees.
Now, a set of organizations and tech companies like Google want elementary school teachers to know that they can get free eclipse glasses for their students. This way, there's hopefully no barrier to this stellar experience.
Eclipse glasses are a necessity
Getting a certified, genuine and truly safe pair of solar eclipse glasses (see a full list here) is essential for preventing temporary or permanent eye damage. The only time anyone can watch the eclipse without them is during the brief total phase, which is less than three minutes long and only accessible to people in the path of totality.
"During a total eclipse — when the moon has completely blocked the sun's bright face and it has gotten dark — it's perfectly safe to look directly at the sun with your eyes, with binoculars or with a telescope," Rick Fienberg, press officer for the American Astronomical Society, said in a phone interview. "But even when the thinnest micro-sliver of sun is visible, you must use solar filters."
Where to get eclipse glasses
Mystery Science, an education-focused organization, teamed up with Google to ship 15,000 eclipse glasses directly to elementary school teachers who ask for them. Teachers signed up at overwhelming numbers to get a box of 200 glasses sent straight to their school, forcing the organization to freeze its request form. However, Mystery Science is still distributing a free lesson plan online so that educators don't have to wing it.
If you missed your chance, don't fret — educators and eclipse viewers are also urged to check out this extensive map of public libraries and other centers distributing free glasses. The AAS also created a list of reliable solar filter brands with links to vetted sellers who are confirmed to be distributing original goods (not counterfeits).
The efforts to distribute glasses for the first coast-to-coast total solar eclipse in the United States in nearly 100 years will hopefully put past concerns to ease and stop squashing the sciences.
"Over the years, school districts have for the most part adopted policies around events like solar eclipses where they say, 'You know, there's too much risk for us to have kids under our supervision during the school day go out and look at the sun. We just don't want to take the risk,'" Ralph Chou, a doctor and professor emeritus at the University of Waterloo School of Optometry and Vision Science in Canada, said in a phone interview. "From a purely legal standpoint, I certainly understand why they're doing that. As a scientist and an educator, I look at that and say it's incredibly stupid."
As long as schools within the path of totality are down to participate, thousands of children may bear witness to an incredibly rare, literally out-of-this-world experience.