'Sonic Mania' Switch Physical Release: Will the Nintendo version get a non-digital standard edition?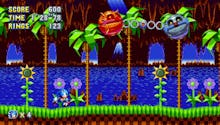 Sonic Mania is finally out, and it's a triumph for Sonic fans. It's an excellent amalgam of everything followers of the fastest thing alive have been waiting for, with old and new levels combining to make a wholly engrossing experience.
Now that the game's out across all platforms, some late adopters who didn't pick up the collector's edition are still trying to snap them up while others are looking to buy just the vanilla game. Obviously, given the Nintendo Switch's popularity, players are clamoring for a possible physical release of Sonic Mania for Nintendo's latest console, but is this feasible? It appears there are rumors swirling around that paint this idea as a possibility, much to fans' delight.
Sonic Mania Nintendo Switch: What the rumors are saying
There have been several leaks recently that suggest a possible non-collector's edition physical version of the Nintendo Switch edition of Sonic Mania is coming. There's nothing concrete just yet, but Czech video game store JRC recently posted a listing that contained possible box art for the game on Nintendo Switch.
Not long after, an Italian listing from GameStop Italy appeared to depict a physical version of the game, though that particular listing was taken down shortly after it went up.
Both were brief glimpses of what the game could look like, but the more sources that report the same thing independently at different times, the easier it is to believe this could actually be happening. The bottom line is that a physical Switch version doesn't seem out of the realm of possibility.
Fans are always looking forward to their next physical Switch game and Switch games in general. Given the popularity of the system, it's only in developers' interest to try and give the people what they want, and in this case they would absolutely eat up a physical standard edition of Sonic Mania.
The game is also getting positive scores from critics, an additional reason to bring it to the Switch as a physical version. Given that this is one of the better Sonic titles in the last few years, it certainly deserves a chance at a physical edition on a console that can't even be kept on shelves.
More gaming news and updates
Check out the latest from Mic, like this deep dive into the cultural origins of Gamergate. Also, be sure to read this essay about what it's like to cosplay while black, a roundup of family-friendly games to play with your kids and our interviewwith Adi Shankar, producer of the animated Castlevania Netflix series.