There's a growing movement to boycott the NFL until Colin Kaepernick gets a job. But will it work?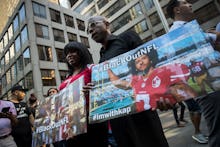 Die-hard New York Giants fan Teresa Setzer, 34, would like to spend her Sunday afternoons watching Eli Manning and Odell Beckham Jr. score some touchdowns this fall.
But the Brooklyn, New York, native said she refuses to watch pro football until Colin Kaepernick, the polarizing free agent quarterback who protested police brutality last season with the San Francisco 49ers by taking a knee during the national anthem, is signed to a new team.
"It's going to be hard," Setzer said at the pro-Kaepernick United We Stand rally outside NFL headquarters in New York City on Aug. 23. "I've been a Giants fan since I was a little girl, but it's hard to watch the NFL knowing this. I've got to put my money where my mouth is."
Setzer joins a chorus of Kaepernick supporters who are demanding that a team sign the quarterback. Many of Kaepernick's supporters say he remains unemployed because he used his platform to forcefully speak out against racism and police brutality. NFL boycott pledges among Kaepernick's supporters have gained momentum in recent weeks, as several other players have protested during preseason games.
An online petition by Kaepernick advocate Vic Oyedeji to boycott the NFL has amassed more than 175,000 signatures since July. On Aug. 18, the Atlanta chapter of the NAACP called for a boycott. Days later, NAACP officials sent a letter to the NFL requesting a meeting with NFL commissioner Roger Goodell to talk about First Amendment issues. An NFL spokesman told Yahoo that the league never received that letter. Despite the NFL's inaction, organizers and NFL fans in New York City, Atlanta and Chicago have made their boycott mission clear: Kaepernick or bust.
After watching the NFL headquarters protest on the news, Chicago bar owner Kenny Johnson took a similar pledge not to show NFL games at his two Windy City establishments until a team signs Kaepernick. He posted his support for a pro-Kaepernick NFL boycott on Instagram.
"We've gotten a lot of support and a little hate mail on social media," Johnson said by phone on Tuesday. "All the African-American people that have reached out have been very supportive. A bunch of white people have called and said our bar is going to go out of business — but we'll be fine."
In Atlanta, activist Mary-Pat Hector of Rev. Al Sharpton's National Action Network, which helped organize a second pro-Kaepernick rally on Aug. 23, said her group plans to demonstrate outside the Atlanta Falcons' Mercedes-Benz Stadium on Sept. 17 if Kaepernick isn't signed before then.
Hector and fellow NAN organizer Amber Harrison say their organization won't try to physically block people from entering the stadium, but they will make their presence felt.
"A lot of these plans should not be disclosed via news media because the NFL is a very powerful organization and could really shut a lot of this down," Hector said during a recent phone interview. "Nothing we are setting out to do as people who want the NFL to take us seriously will be against the law."
Organizers of the pro-Kaepernick United We Stand coalition have threatened to boycott Verizon, the NFL's biggest ad buyer, unless the company puts public pressure on the NFL to get the socially conscious athlete signed to one of its teams before the start of the regular season on Sept. 7.
"Ask Verizon … are you going to stand with Kaepernick?" activist Linda Sarsour told the enthusiastic crowd of more than 1,000 supporters gathered Wednesday at the corner of Park Avenue and 51st Street in New York City. "We want Verizon to take a stand and tell us what side they're on!"
Despite calls and tweets from customers attempting to put pressure on the company, Verizon doesn't seem to be fazed by the threats to boycott.
"I don't believe anyone's going to be commenting on this," Verizon PR manager Jessica Thorpe told Mic on Tuesday.
Kaepernick and the state of our nation
Fan polls suggest Kaepernick alone caused the NFL's ratings slump last season. However, other business insiders have attributed that viewership decline to the presidential election.
Kaepernick's fans and Trump supporters appear to sit at opposite ends of the political spectrum. When Kaepernick began his protest, he inadvertently thrust the NFL into the center of the country's political culture war. In April, several current and former New England Patriots players cited Trump as the reason they refused to visit the White House with their other Super Bowl-winning teammates.
Trump himself has shamelessly taken credit for Kaepernick being ostracized, citing many fans' apparent disgust for Kaepernick and support for him during a speech in March in Louisville, Kentucky.
"There's an article today which reported that NFL owners don't want to pick him up because they don't want to get a nasty tweet from Donald Trump," Trump said, prompting cheers from the crowd. "Can you believe that?"
"I said if I remember that, I'm going to report it to the people of Kentucky because they like it when people actually stand for the American flag."
Two Washington Post polls indicate that racist people are the most likely to both love Trump and hate Kaepernick, which makes it troubling for Kaepernick supporters that at least some of the most powerful NFL officials have echoed those views as well.
The fact that team executives have publicly expressed their hate for Kaepernick while several owners have donated millions of dollars for Trump's inauguration says something greater to Kaepernick supporters about how the NFL regards black people.
"Black lives do not matter to NFL owners," Nation sports editor Dave Zirin said at one of the Kaepernick rallies. "The NFL [players] are 70% black. NFL owners have covered up studies of brain injuries. There are no [black] NFL owners and you can still count the number of black NFL executives on two hands... No black bodies to entertain as long as black minds are disrespected."
The NFL's workforce demographics present a troubling narrative among pro-Kaepernick NFL fans: The small group of older white billionaires don't seem to mind making money off black men brutalizing each other on the football field. But those same owners do mind if one of those black men speaks out on behalf of his own people, or perhaps worse, potentially affects their profits in doing so.
"There are too many people who have made billions of dollars off of the backs of these young men who have put their bodies on the line," activist Tamika Mallory of Justice League NYC and the Women's March said outside NFL headquarters during the Aug. 23 rally. "When [black NFL players] say that they want their communities to be respected, the NFL ought to be standing with them."
NFL players continue to speak out
Inside NFL locker rooms, there hasn't been a consistent of Kaepernick support from his fellow athletes. Most, like Dallas Cowboys wide receiver Dez Bryant, have avoided publicly choosing a side.
Buffalo Bills running back LeSean McCoy became one of the few current players to criticize Kaepernick, telling reporters on Thursday that Kaepernick's talent on the field may not be worth the distraction that his off-the-field activism brings to NFL teams.
Yet in the wake of the racially charged violence in Charlottesville, Virginia, more players are doing their own national anthem protest in solidarity with Kaepernick.
Seattle Seahawks defensive end Michael Bennett and 12 players from the Cleveland Browns recently sat or took a knee before a preseason game. Browns tight end Seth DeValve became the first white NFL player to kneel for the anthem on Aug. 21.
Ultimately, the most powerful voice in the Kaepernick discussion is the NFL players themselves, according to Mallory. She said Kaepernick's peers could force the league's hand if they just refuse to play the way NBA players threatened to in 2014 after an audio recording of racist comments by then-Los Angeles Clippers owner Donald Sterling were made public.
"They cannot fire all of the black players within the NFL," Mallory said. "If we all make a decision that we're going to stand up for something, the system will respect us. What they don't respect is when we are afraid to speak up on behalf of our people and ourselves."