Mic Wakeup: The latest on Vegas, guns and Congress' new 20-week abortion ban bill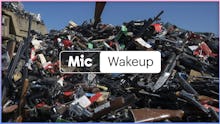 It's Wednesday, Oct. 4. Here are three things you need to know.
These are the victims of the Las Vegas shooting.
At least 58 people died at the hands of a lone gunman shooting from the 32nd floor of the Mandalay Bay hotel in Las Vegas on Sunday. (Clark County Coroner John Fudenberg clarified Tuesday that there were at least 58 victims — in previous statements the shooter had been counted among the 59 people who died, the Washington Post and others reported.)
People like Sonny Melton, a 29-year-old from Tennessee, who died while attending a country music festival with his wife, Heather Melton. The two were on a trip to Las Vegas to celebrate their one-year anniversary.
And Carrie Barnette, a 34-year-old from Southern California who worked at Disneyland. "She spent many recent years caring for my aunt and uncle until they passed," her relative Janice Chambers told the Arizona Republic. "She was definitely grandpa's girl. She told me he loved hummingbirds and every time she saw one she'd say 'Grandpa's here.'"
Mic will continue to update its list of victims as their names and more information about them all rolls in.
What can I do to help? As Fast Company reported, Clark County Commission chair Steve Sisolak set up a GoFundMe campaign to assist those injured in the shooting. To date it has raised more than $4.2 million.
Democrats want "sensible" gun laws, but it may not be enough.
"In my state of Connecticut, which has expanded background checks and requires issued handgun permits, gun crimes have dropped by 40%," Sen. Chris Murphy (D-Conn.) wrote in an op-ed for the Washington Post on Tuesday. While these methods are a start, statistically they may not be enough.
As Mic reported, over 80% of guns used in mass shootings are obtained legally. Moreover, the idea of banning automatic rifles may fall short as well, as the majority of gun murders in the United States are committed using handguns.
So, what can we actually do? According to a Pew Research poll, a large majority of Americans — 84% of adults, including 77% of gun owners — favored expanding background checks for people purchasing weapons at gun shows in the United States.
But, if we want more, we may have to look to Australia for inspiration and go much, much further than simply expanding a few background checks.
A congressman allegedly asked his mistress to get an abortion, then voted in favor of an anti-abortion rights bill.
Congressman Tim Murphy, who represents Pennsylvania, found himself embroiled in controversy Tuesday after it came to light that, prior to co-sponsoring a bill that bans abortions at the 20-week mark, he allegedly asked his mistress to have an abortion herself.
According to reports, his mistress, Shannon Edwards, a forensic psychologist in Pittsburgh, texted Murphy after he posted about his pro-life stance on Facebook, blasting him for his apparent hypocrisy. Murphy allegedly replied, "I get what you say about my March for Life messages. I've never written them. Staff does them. I read them and winced. I told staff don't write any more. I will."
Ultimately, Murphy voted in favor of the bill and it passed the House.
Will this bill actually become a law? Probably not, as it's expected to be shot down in Senate when it finally comes to a vote.
Oct. 4, 2017, 3:31 p.m.: This story has been updated.
Corrections: Oct. 4, 2017