Off-duty NYPD officer who fatally shot Delrawn Small is not guilty of murder and manslaughter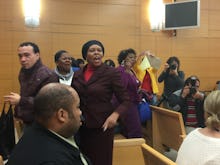 Brooklyn, N.Y. — Wayne Isaacs, the New York City police officer who fatally shot 37-year-old Delrawn Small in a July 2016 road-rage incident, was found not guilty of murder and manslaughter charges Monday.
The courtroom erupted in anger, upon hearing the verdict.
"Let me out of here!" shouted Small's girlfriend Zaquanna Albert, who witnessed the shooting and testified against Isaacs, as she and others were escorted out of Kings County Criminal Supreme Court in Brooklyn.
Gwen Carr — mother of the late Eric Garner, who died after being put in a chokehold by an NYPD officer in July 2014 — was sitting in the courtroom with Small's family on Monday. She walked out with family members and tried to comfort them in their moment of grief.
It took about five minutes for the bailiffs to restore order.
Isaacs, 38, was hugged by several of his supporters, who sat behind him in court as the verdict was read.
His case represented the first time a police officer in New York state was tried under Gov. Andrew Cuomo's 2015 executive order giving power to the attorney general to "investigate and prosecute officers for civilian deaths at their hands or in their custody," according to the New York Times. The executive order came after years of advocacy by New York families of police shooting victims, an effort that gained steam after the deaths of Garner and Akai Gurley in 2014.
The families and police reform advocates had argued that local district attorneys could not fairly pursue cases against police officers whom they rely on to prosecute cases. On Monday, some were expressing doubts that the governor's legal mechanism had made any difference.
New York Attorney General Eric Schneiderman said his office was disappointed with the verdict, but respects the jury's decision.
"I also want to thank the family of Delrawn Small for their courage and perseverance in the face of tragedy," Schneiderman wrote in an emailed statement. "My office will continue to investigate these cases without fear or favor and follow the facts wherever they may lead."
Isaacs, who testified in his own defense on Thursday, said he believed that the use of deadly force was the only way to neutralize the threat he believed Small posed during a traffic incident in the early hours of July 4, 2016. Assistant Attorney General Joshua Gradinger, one of the prosecutors on the case, countered that argument with evidence suggesting Isaacs had rolled down his window with the intent to kill Small.
Video surveillance showed Small had approached Isaacs' vehicle and was shot within seconds of reaching the off-duty officer's driver-side window. Isaacs also claimed that Small had punched him repeatedly in the face before he opened fire.
Even after getting their day in court, Small's family remained distraught. "Why does [Isaacs] get to go home to his family and Delrawn will never come home to us?" Small's sister, Victoria Davis, asked reporters outside the courtroom.
"This goes to show the system is not for black people, I don't care how we look at it now," Small's brother, Victor Dempsey, said moments later.
Judge Alexander Jeong tried to reassure jurors, at least five of whom were black, that they'd done their jobs well. "Obviously this was an emotional case," Jeong said after the courtroom had quieted down. "This was a very tough case. I want to really commend you for taking the time to come here and for doing what you thought was justice."
"You should be proud no matter the verdict," he added.
Outside the courtroom, members of Small's family and supporters wept inconsolably as they tried to make sense of what had just happened. Several of them hugged and consoled small children.
Monday's verdict was at least the fifth time in 2017 that a police officer has been acquitted for fatal shootings of black Americans that occurred in 2015 and 2016. Several of those cases helped to re-energize the Black Lives Matter movement, which garnered national prominence after the police shooting death of Michael Brown in Ferguson, Missouri.
Small was fatally shot within days of the police shooting deaths of Alton Sterling and Philando Castile — cases that sparked weeks of nationwide protests that were followed by the ambush of police officers in Texas and Louisiana.
On Monday, the NAACP Legal Defense and Educational Fund decried the verdict while also thanking New York Attorney General Eric Schneiderman's office for prosecuting the case.
"Even as someone with great faith in the legal system's ability to hold wrongdoers accountable, it is agonizing to watch officer after officer evade accountability," Sherrilyn Ifill, NAACP LDF president and director-counsel, said in a statement released after the verdict Monday. "This acquittal, on top of the countless others that have come before it, makes clear that the legal standards governing these cases of police violence must be corrected. As it stands, the law has afforded officers almost blanket immunity for taking the life of unarmed citizens."
State Assemblyman Charles Barron, who represents the Brownsville and East New York sections of Brooklyn, issued a ominous warning against continued miscarriages of justice in police cases. "When we use peaceful means for justice and it's ignored, violence is inevitable," he said.
"And don't blame me, the forecaster," Barron added. "Blame the injustice system."
Nov. 8, 2017, 11:40 a.m.: This story has been updated.