Photographer who shot Drake in blackface defends work after Pusha-T drops merciless diss track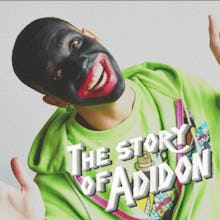 Drake and Pusha-T's ongoing rap feud went from zero to 100 late Tuesday night, when the Daytona lyricist dropped a devastating rebuttal to his OVO Sound nemesis' recent "Duppy Freestyle" diss track.
The heavyweight verbal haymakers in T's lyrics — attacks on the health of Drake producer Noah "40" Shebib, who suffers from multiple sclerosis, as well as detailed accusations of Drake perpetuating a cycle of absentee fathering — aren't what immediately jump out on Pusha's "The Story of Adidon."
What draws your attention is the song's artwork, which depicts the biracial Canadian Drake in blackface.
Believe it or not, the photo is real.
And it didn't take long for Twitter and internet sleuths to hunt down the person who shot it and demand some answers.
Artistic photographer David Leyes, who says he shot the photos of Drake at the rapper's behest, responded quickly to probing questions on his Instagram page.
"You know why we here, bro. Put the pic up," Instagram user theaspiringme, referring to the Drake image, commented on one of Leyes' latest photographs.
"Ask Drake," Leyes replied later. "I captured his idea."
According to HipHop-N-More, Leyes and Drake shot the photo back in 2008 for a fashion line called "Jim Crow Couture," created by designers behind the brand Too Black Guys. The company's website claims its clothes are intended to "represent the black experience in an unapologetic way."
What's more, the Drake image Pusha-T used for the song's artwork wasn't presented in its entirety, according to multiple sources.
Rapper Lupe Fiasco pointed that out in a now-deleted tweet Wednesday morning.
"Not defending or deflecting," Lupe tweeted, according to HipHop-N-More, which captured a screenshot of the comments before they were deleted. "Yes, it's two pictures of [Drake] in blackface. The one Pusha has as the cover is connected to another, but it's cropped off."
Unlike the first blackface image of Drake, in which the rapper is seen with an enthusiastic smile on his face, the cropped-off photo Fiasco referenced also depicts the Toronto rapper looking solemn in what appears to be an illustration of the sometimes tortured duality of black artists.
"For sure I took it!" Leyes commented on his Instagram page. "I'm proud to be part of a strong statement made by a black man about the fucked up culture he is living in."
Drake — who has previously been quick to respond to disses from rappers and is prepping for the release of his next album, Scorpion, in June — has so far remained silent on social media following Pusha-T's release.