Muslim advocates regroup after Supreme Court travel ban ruling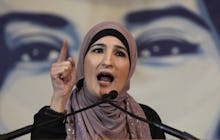 Activist Linda Sarsour was unsurprised the U.S. Supreme Court upheld parts of the Trump administration's most recent travel ban Tuesday. But the extent of the court's Trump v. Hawaii ruling — which affirmed the president's authority to implement the controversial measure — still caught her off guard.
"I'm not gonna lie, I was bawling my eyes out," Sarsour said by phone Tuesday as she prepared for an evening protest against the decision at Foley Square in New York City. "I was expecting a partial ban. I thought at least refugees in refugee camps or people sitting in countries like war-torn Yemen would get some exemptions. But no."
The court's 5-4 ruling upheld President Donald Trump's September executive order barring immigrants from North Korea, Venezuela and five Muslim-majority countries — Iran, Libya, Somalia, Syria and Yemen — from traveling to the United States, with very limited exceptions. Federal judges had blocked the ban's first iteration in March 2017. In December 2015, Trump had called for a "total shutdown" of Muslims from entering the United States, and his first ban barred only visitors from Muslim-majority countries.
In response, Trump implemented two "updated" versions of the ban and included Venezuela and North Korea to the list of banned countries. The state of Hawaii blocked the third version, and filed a lawsuit against the administration. But adding two non-Muslim nations appears to have convinced the Supreme Court the measure isn't overtly discriminatory, according to Sarsour.
"The Trump administration added North Korea and Venezuela as a technicality," she said. "We don't actually have North Koreans immigrating to the United States. It's ridiculous."
In his majority opinion, Chief Justice John Roberts wrote that the White House's measure was "squarely within the scope of presidential authority" under the Immigration and Nationality Act.
"By its plain language, [INA] grants the president broad discretion to suspend the entry of aliens into the United States," Roberts wrote. "The president lawfully exercised that discretion based on his findings ... that entry of the covered aliens would be detrimental to the national interest."
It was a ruling that seemed to surprise even Trump himself.
"SUPREME COURT UPHOLDS TRUMP TRAVEL BAN," he tweeted Tuesday morning. "Wow!"
Omar Jadwat, director of the American Civil Liberties Union's Immigrants' Rights Project, compared the court's decision to its 1944 Korematsu v. United States ruling that upheld the internment of Japanese-Americans during World War II.
"This ruling will go down in history as one of the Supreme Court's great failures," Jadwat said in an emailed statement. It "swallows wholesale government lawyers' flimsy national security excuse for the ban instead of taking seriously the president's own explanation for his actions."
The ACLU acknowledged that the ruling doesn't give immigrant rights proponents much legal recourse to challenge the Trump administration in federal court — making the upcoming November midterm elections that much more important.
"The court failed today, and so the public is needed more than ever," Jadwat said Tuesday. "We must make it crystal clear to our elected representatives: If you are not taking action to rescind and dismantle Trump's Muslim ban, you are not upholding this country's most basic principles of freedom and equality."
Sarsour stressed the importance of registering to vote.
"We're talking about families who will not be able to be united if they're having a wedding or a graduation or a family member from the states who's dying of cancer, and you can't come here to be with your family," she said. Trump and has allies are "winning so far. They're doing everything they promised their base," Sarsour added. "If you're not registered to vote, you better register to vote. This is not about getting liberated through the ballot box. This is about stopping the bleeding in our black and brown communities."