Write For PolicyMic!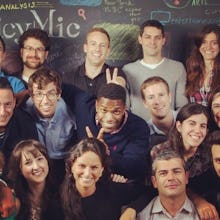 PolicyMic is bringing on smart, passionate, current-affairs-savvy millennials to contribute to our Politics, Arts & Entertainment, and Identities verticals.
We are a place where millennials can read what their actual peers think about actual events — a place where 20-somethings can discuss, dissect, and debate the cultural and political occurrences of the moment. It's a site where you can not only get news and opinions on what's trending, but where you can interact with people around the world on the issues that matter most to our generation.
About our writing opportunities:
Writers will spend between 3-7 hours each week developing, writing, and publishing stories online. Those who hope to rise through the ranks to paid columnist positions faster are encouraged to write more often. This is a remote opportunity.
Writers will be in contact with the editorial staff at our New York City office, and will be encouraged to start developing ideas and planning stories as soon as possible.
*Disclaimer: You don't need a PHD, to have saved the world, or to have already established yourself in a professional environment to write for PolicyMic!
Why write for us?
PolicyMic is the fastest growing news site for millennials, featuring 9 million + unique monthly readers and more than 2,000 pundits across the world. Millennials are an incredibly diverse generation, and we experience the world in different ways based on our respective identities.
Writing for PolicyMic is a great opportunity to burnish your resume while contributing to online political discussion. We're changing online media, and we're looking for passionate, hard-working people to join us.
We provide you with all of the necessary skills and knowledge to set your ideas in motion. Editors fine-tune pundits' writing skills as they provide personalized feedback, guide writers on article topics, and help contributors reach large audiences in one fell swoop.
Requirements:
* Interest in politics, arts, entertainment, online media, or activism
* Sound organizational skills and familiarity with social media 
* Weekly availability to write
* A passion for PolicyMic's commitment to providing millennials a place to share their perspectives!
To apply:
Send the following to Alexander [ alexanderdeavilaca@gmail.com ]:
* Résumé
* Relevant writing sample (approximately 500 words, op-ed style is best)
* A list of 3 story ideas you would want to see in the news next week