Feminist Weekly: A Spotlight On Trans Allyship and Visibility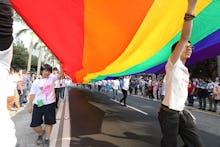 Editor's Note: Every Thursday, I'll be rounding up my favorite Identities pieces from the past week so that PolicyMic Pundits can more easily read and comment on the great content being written about sex, sexuality, gender, and race in politics and culture, in addition to updates from our community and GIFs galore! You can subscribe to get updates delivered straight to your inbox.
Highlights This Week:
First things first — congrats to Thomas McBee, PolicyMic's new Managing Editor!
We're so proud to have his leadership; be sure to congratulate him yourself!
Yesterday marked Transgender Day of Remembrance, a day to memorialize transgender people who have lost their lives to violence, and to acknowledge and stand in allyship with a community tragically and disproportionately affected by those losses. As a media organization for and by millennials, who increasingly identify outside the traditional gender binary, PolicyMic is committed to doing justice to transgender people's stories. In honor of TDoR 2013, Thomas and I put together a series of articles on trans visibility and the media; you can read the entire series here.
Both Thomas and I were touched to see the powerful response to this piece by photographer Amos Mac of Original Plumbing, who showed that there's more to gender than what meets the eye with 16 original photographs paired with quotes from their subjects, including Janet Mock and Rocco Katastrophe. So far, his piece has been shared 19,237 times.
Read: "16 Beautiful Portraits Of Humans Who Happen to Be Trans" 
We were equally affected by an eloquent essay from Foster Noone, an Alabaman high school student and community organizer with the Magic City Acceptance Project and the Youth Voice Project, who explains why older generations should listen to millennials in order to end transphobia. Foster concludes, "This generation will be the least transphobic yet. All we need is for adults to get on our level." 
Read: "What a 17-Year-Old Learned From Teaching Adults Trans 101" 
Let's work to make that true.
Updates From Our Pundits:
Twitter love!
Google search love!
Senate floor love! (For Jewelyn Cosgrove.)
What did you do last week? I'll share any outstanding writing achievements in our community, and highlight the great work that all of our Pundits do offline as well. If you have anything you'd like for me to include about yourself or a fellow PM writer, please send it along!
Must Reads From Last Week: